Get
Nigerian Naira
Fast!
Free home delivery over £750

with Royal Mail Special Delivery 1pm

Better rates than the banks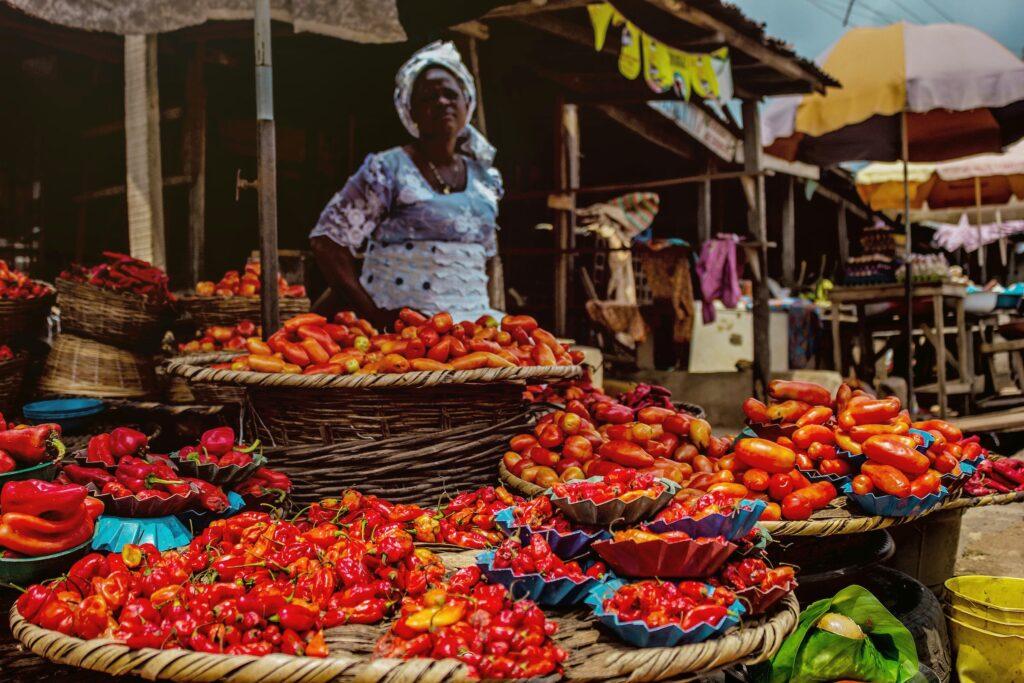 Travelling to Nigeria?
Get the best rates for Nigerian currency online
Prepare for your adventure in Nigeria! Order your Nigerian naira at Manor FX today. Our fantastic pound to Nigerian naira exchange rate gives you extra NGN cash for all your fun plans.
Get your Nigerian money delivered to your doorstep. Or swing by the Manor FX bureau near Heathrow for a hassle-free pickup.
Manor FX makes it a breeze! Enjoy speedy deliveries and a user-friendly online ordering process for your Nigerian naira travel money. Get ready to explore Nigeria with a pocketful of naira!
Nigerian travel money
Prepare for your trip to Nigeria with essential information about cash and card payments. Here are some helpful details to keep in mind.
Can I buy naira in the UK?
Yes, but it's harder to buy because Nigerian naira is an exotic currency.
Your options may be limited, but you can buy Nigerian naira (NGN) in the UK. Here are a few options:
Currency exchange offices. Currency exchange offices or bureaux de change are often available at airports, train stations, and city centres. They often provide a wide range of currencies, including NGN. Our bureau de change is in Datchet near Heathrow.
Online currency exchange websites. Some online currency exchange platforms allow you to order Nigerian naira online and have them delivered to your home or office. We do exactly that!
Travel agencies. Sometimes, travel agencies offer foreign currency exchange services to customers as part of their travel preparation services.
When buying Nigerian naira, compare exchange rates and fees to ensure you get the best deal.
Alternatively, you can buy from us at Manor FX and get the best rate guaranteed.
Additionally, consider how you want to receive the currency. Decide whether in-person pickup or home delivery is preferred. Then, plan your currency exchange in advance of your trip to Nigeria.
What is the best place to buy Nigerian naira?
The best place to get Nigerian naira is Manor FX.
If you place an order exceeding £750, you'll enjoy free home delivery, ensuring you get your currency without additional charges. Moreover, our efficient service promises quick delivery within just 24 hours, so you can start your journey fully prepared.
Prefer a more personal touch? You can also collect your currency from our dedicated bureau de change located in Datchet on the same day you order. It's the ultimate in convenience and flexibility.
But that's not all – Manor FX goes the extra mile for you. After your trip, if you have leftover currency, we've got you covered with our currency buy-back service. You'll be pleasantly surprised by the competitive rates we offer when you sell your unused currency back to us.
Order your currency online with us and get ready for a worry-free travel experience.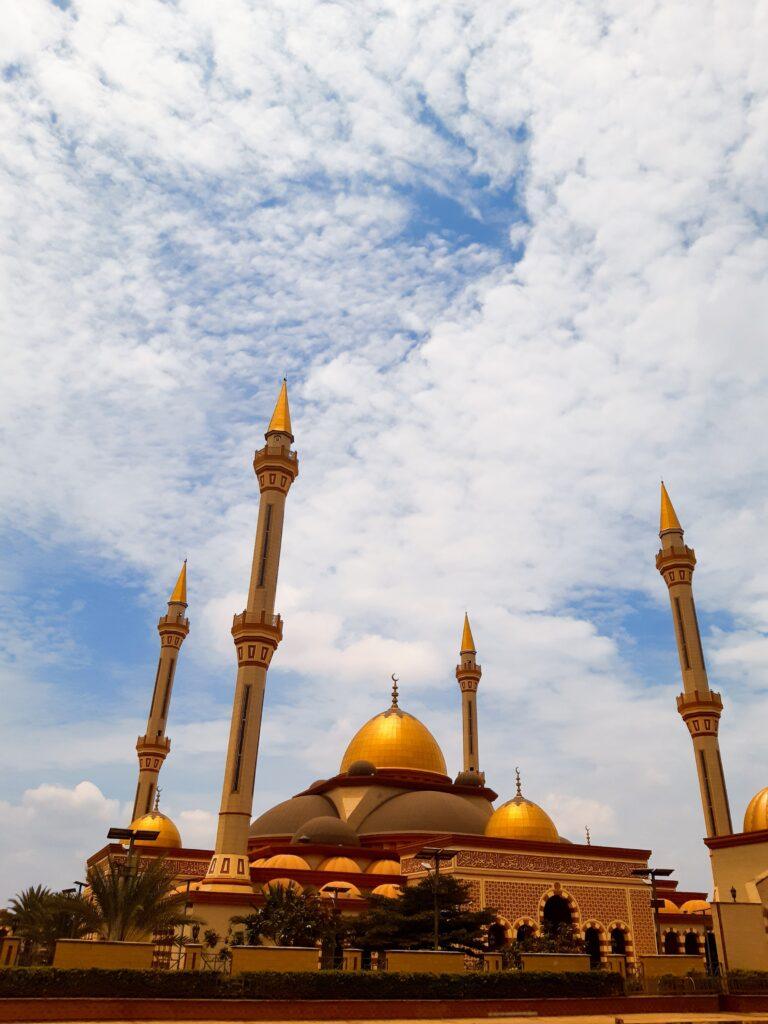 Should I bring cash to Nigeria?
Yes, cash is king. Cash payments are the number one payment method in the 36 states that make up Nigeria. You'll need Nigerian naira cash for most of your purchases.
Therefore, we recommend getting your hands on some NGN bills. Here are some considerations:
Advantages of bringing cash:
Immediate access: Cash ensures funds are available when you arrive, especially for minor expenses like transportation and meals.
Backup: Cash is a reliable backup in case of issues with cards or electronic payments.
Local transactions: Some local vendors, markets, and smaller establishments may prefer or accept cash only.
Important tips:
Safety: Carry cash securely, use a money belt or hidden pouch, and avoid displaying large amounts publicly.
Exchange currency: Exchange currency at authorised exchange offices or banks for better rates and authenticity.
Small denominations: Carry small denominations for convenience, as change for larger bills may not always be readily available.
What is the best currency to bring to Nigeria?
The best currency to bring to Nigeria is the Nigerian naira (NGN).
It is possible to exchange some major foreign currencies like the US dollar (USD), euro (EUR), or British pound (GBP) for NGN once you arrive in Nigeria. But, obtaining Nigerian naira before your trip is generally more convenient and cost-effective.
Can I use my bank card in Nigeria?
Yes, you can use your international bank, credit or debit card in Nigeria. However, there are some important considerations to keep in mind:
Card acceptance
Major cities and tourist destinations in Nigeria generally accept international credit and debit cards, especially Visa and MasterCard cards.
Tourists visiting the following four Nigerian states are likely to find vendors that accept debit and credit cards:
Lagos state, in the southwestern part of Nigeria, is the commercial capital with lots of economic activities and new developments. This is the easiest location to find local supermarkets and shops that accept card payments. Especially in upmarket areas like Victoria Island, Ikeja, Lekki and Surulere.
Kano state in the Northern part of Nigeria is the most populous city in the country. It is also the most commercial and developed area of the Northern region, with lots of businesses that accept card payments.
Abuja is the Administrative capital and Nigerian seat of power. Card payments work for many vendors in Abuja, especially the more upmarket stores.
Rivers state: Nigeria's oil-rich region with lots of foreign expatriates. Card payments are generally acceptable in the shops frequented by expats.
Currency conversion
When using your card in Nigeria, you may have the option to pay in the local currency or your home currency. It's advisable to be billed in NGN to avoid unfavourable exchange rates.
ATMs
ATMs are available in Nigeria's larger cities and towns, allowing you to withdraw Nigerian naira with your international card. Be aware that ATM fees and withdrawal limits may apply.
Card security
Always be cautious when using your card in public places. Be on the lookout for card skimming devices, and shield your PIN when entering it anywhere.
Notify your bank
Before travelling to Nigeria, inform your bank about your trip. This is to avoid any potential blocks on your card due to international usage. This also helps your bank monitor for unauthorised transactions.
Cash as backup
Carrying some Nigerian naira (NGN) in cash is a good idea as a backup. Especially when travelling to remote areas where card acceptance may not be possible.
Check card fees
Be aware of any foreign transaction fees or currency conversion fees that your bank may charge for card usage abroad. These fees can add to the overall cost of using your card in Nigeria.
Overall, using your bank card in Nigeria is a convenient way to access funds. But it's essential to exercise caution, keep an eye on fees, and be prepared with some cash for contingencies.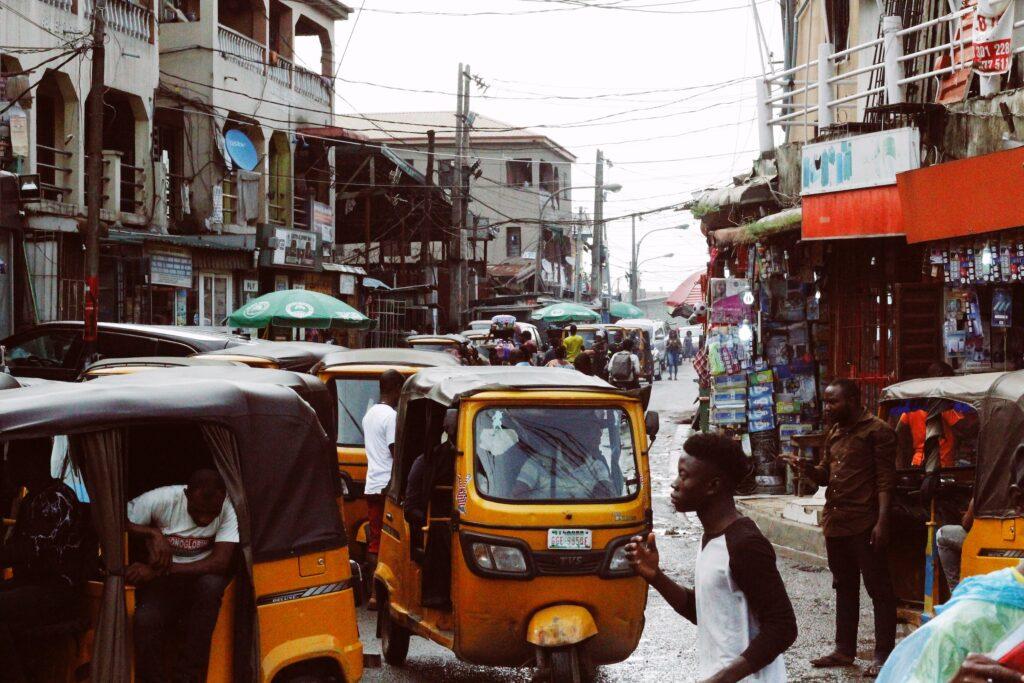 Is it better to use cash or credit card in Nigeria?
It's advisable to carry a combination of cash and a credit card. Use cash for everyday expenses, small purchases, and in areas with limited card acceptance. Reserve your credit card for larger expenses or emergencies.
Both payment options give you flexibility and ensure you're prepared for various situations during your trip to Nigeria.
How much cash should I take to Nigeria?
For a budget traveller, bringing around 40,000 to 60,000 Nigerian naira (£40 to £60) in cash per week is advisable. This should cover daily expenses, transportation, meals, and minor purchases. Especially if you plan to visit urban areas where card acceptance is more common.
For a mid-range traveller, consider carrying between 60,000 to 100,000 NGN per week in cash (£60 to £100). This allows for more flexibility in dining choices, entertainment, and shopping.
For a luxury traveller, you may want to have 100,000 NGN (£100) or more in cash per week. This ensures you can comfortably enjoy high-end dining, upscale shopping, and other luxury experiences.
Remember that these are approximate amounts; your specific budget and spending habits will influence how much cash you should carry.
Always prioritise safety and consider that it's possible to withdraw additional cash from ATMs in certain parts of Nigeria if needed.
How can I avoid ATM fees in Nigeria?
To avoid or reduce ATM fees in Nigeria:
Use partner ATMs: Many banks have fee-free partnerships.
Check your bank's policies: Ask about fee reimbursements.
Withdraw larger amounts: Fewer transactions, fewer fees.
Choose local currency: Opt for Nigerian naira to avoid conversion fees.
Consider local banks: They may have lower ATM fees.
Use alternative payments: Credit/debit cards or mobile payments where accepted.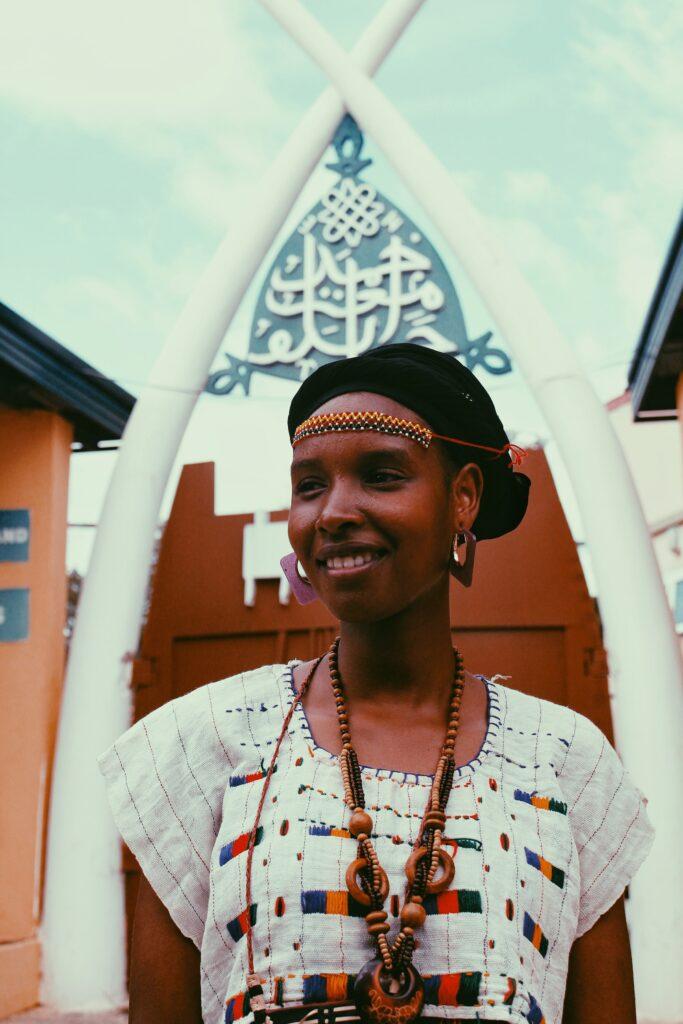 Is Nigeria a cheap country to visit?
Nigeria can be a cost-effective destination if you plan your trip carefully. It can also cater to luxury travellers looking for upscale experiences. Your budget and spending choices will ultimately determine the overall cost of your holiday in Nigeria.
It's important to note that Nigeria's cost can vary significantly between cities and regions. Urban areas like Lagos and Abuja tend to be more expensive. Rural areas and smaller towns often offer more budget-friendly options.
For a coffee in a cafe, expect to pay around 700-800 NGN (£0.70 – £0.80). A three-course meal will cost in the area of 4000 naira (£4).
How does tipping work in Nigeria?
Tipping in Nigeria varies by situation:
Restaurants: 10% for good service (if a service charge hasn't already been added to the bill).
Hotels: Tip bellhops and housekeeping (100-200 naira).
Taxis: Not common, but rounding up is fine.
Tour guides/drivers: Tip based on service quality.
Service providers: 10-15% of the service cost.
Porters/security: A small tip for their service is appropriate.
Friendly suggestion: It's best to give the tip discretely.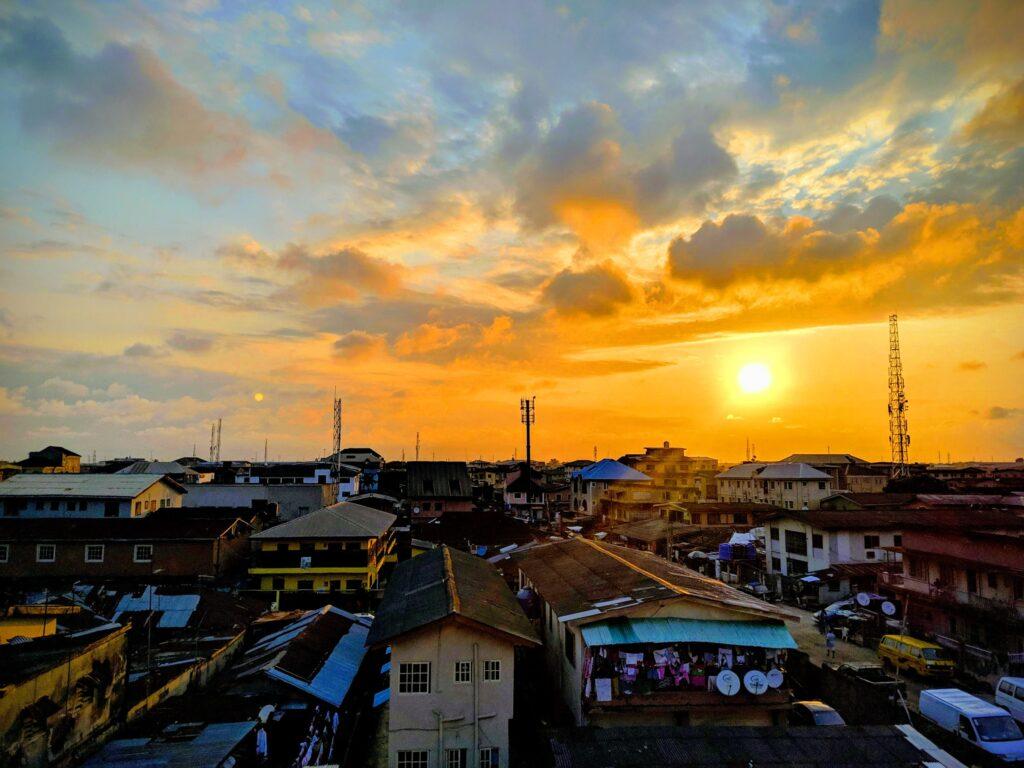 Nigerian Currency:
Banknotes in Nigeria
Nigerian banknotes, the official currency of Nigeria, come in various denominations and designs.
The lower denomination banknotes in Nigeria are made of polymer plastic: 5 naira, 10 naira, 20 naira and 50 naira. The notes of 100, 200, 500 and 1000 naira are made of paper.
The value of Nigerian banknotes can be relatively low. You'll often need to use many banknotes for larger purchases.
Many banknotes may be in a worn and circulated condition, often dirty. Wash your hands often.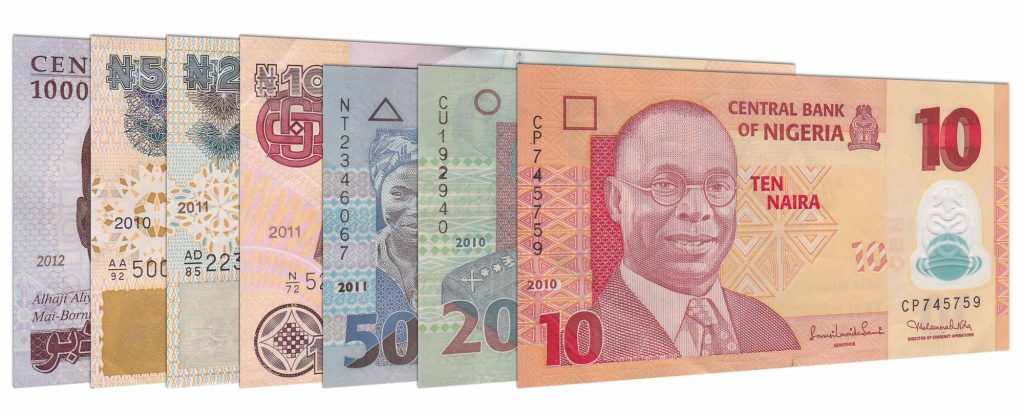 Coins in Nigeria
Nigerian coins range from 50 kobo (0.50 naira) to 2 naira. The coins are typically made of various metals, including copper-plated steel, nickel-plated steel, and bi-metallic compositions.
Nigerian coins feature various designs and symbols representing the country's culture, history, and natural resources. These designs may include images of notable leaders, traditional motifs, and national emblems.
Coins in Nigeria are ideal for small transactions, such as paying for public transportation, buying snacks, or making small purchases at local markets.
While coins are in circulation, they are less commonly used than banknotes for everyday transactions. In some cases, people may prefer to use paper currency due to the convenience of handling.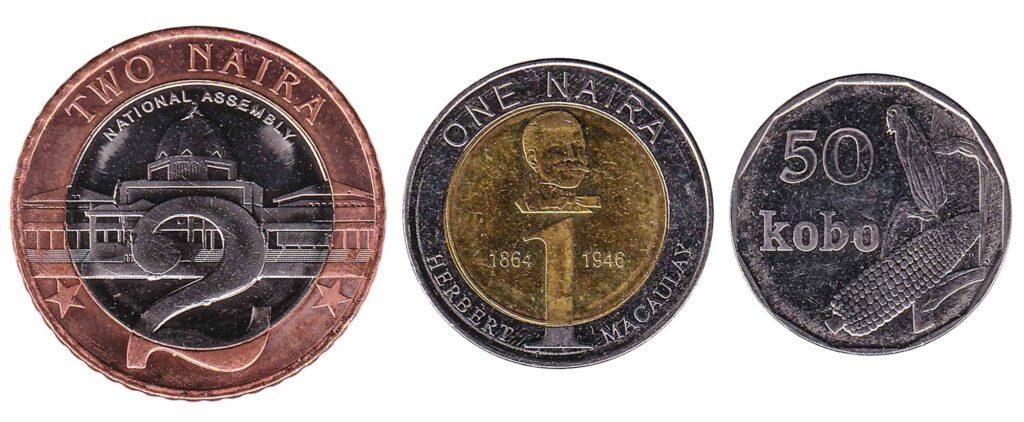 Nigeria's currency import and export regulations
Currency import regulations:
Travellers entering Nigeria must declare any amount exceeding $10,000 (or its equivalent in foreign currency) at customs.
There are strict limits on the amount of Nigerian naira (NGN) that can be imported into the country. This amount varies depending on the mode of transport (air or land).
You must declare any currency, including foreign currency, above the allowable limits to Nigerian customs authorities upon arrival.
Currency export regulations:
Travellers leaving Nigeria cannot take more than ₦5,000 in Nigerian currency (NGN) out of the country. There are also limits on the export of foreign currency.
When leaving Nigeria, travellers must declare amounts exceeding $5,000 (or its equivalent in foreign currency).
You are advised to retain receipts or documentation for foreign currency exchanged into Nigerian naira. Customs authorities may request proof of legitimate currency exchange.
Nigerian banks may require customers to obtain a bank confirmation for any foreign currency purchased from authorised dealers for travel or other authorised transactions.
Failure to comply with Nigeria's currency import and export regulations can result in fines, confiscation of currency, or other legal consequences.
Ordering Nigerian naira online
Easily purchase Nigerian naira online and enjoy swift, secure delivery to your doorstep or office, courtesy of Royal Mail Special Delivery Guaranteed®.
Alternatively, you can collect your currency from our convenient travel money shop near Heathrow. Click here to exchange your GBP to naira.
Selling back Nigerian naira
If you've got naira currency to exchange, simply follow this link to exchange Nigerian naira to GBP. Click on 'sell currency' and choose 'NGN Nigerian naira.'
We offer competitive rates for your remaining Nigerian naira.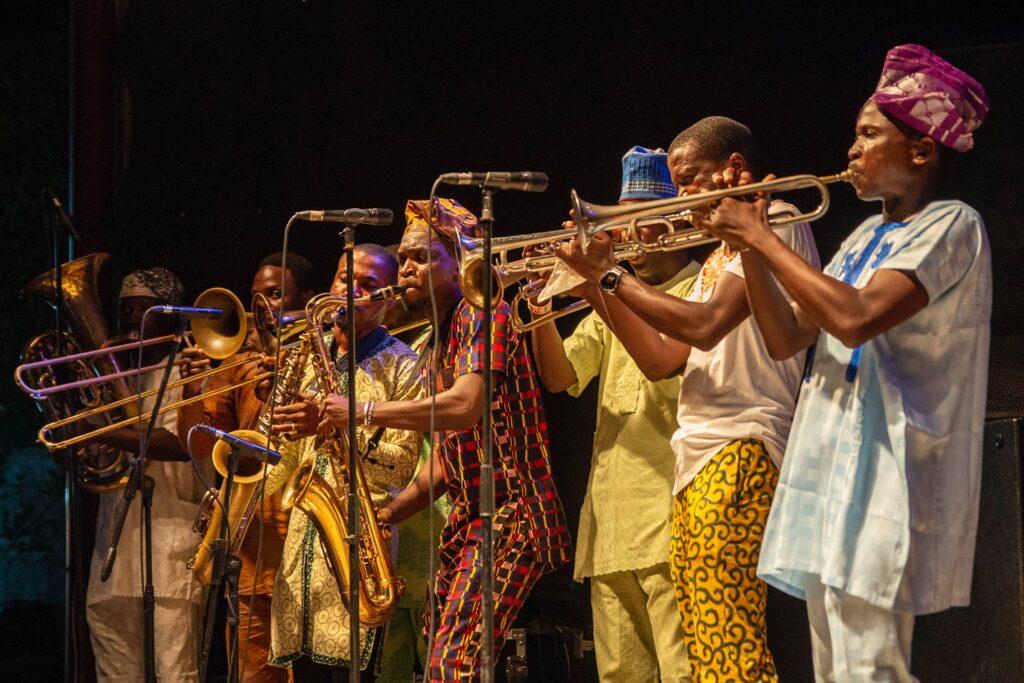 FAQs
Yes, Nigeria is a tourist destination with diverse attractions and experiences to offer travellers. 
While it may not be as well-known for tourism as other countries, Nigeria boasts a rich cultural heritage, natural beauty, and historical sites. Some of the highlights of tourism in Nigeria include:
Cultural diversity: Nigeria is famous for its diverse cultures, ethnic groups, and languages. Visitors can immerse themselves in local traditions, music, dance, and art.

Natural beauty: Nigeria features stunning landscapes, including savannahs, rainforests, and waterfalls. The Erin Ijesha Waterfalls, Aso Rock, and Idanre Hills are just a few examples.

Wildlife: The country has several national parks and wildlife reserves where tourists can spot diverse animal species. You can see elephants, chimpanzees, and various bird species.

Historical sites: Nigeria is home to historical sites like the ancient city of Benin, the Osun-Osogbo Sacred Grove, and the Sukur Cultural Landscape, all recognised as UNESCO World Heritage Sites.

Beaches: Coastal areas in Nigeria offer beautiful beaches, such as Tarkwa Bay Beach and Elegushi Beach in Lagos.

Art and museums: Lagos, in particular, has a vibrant art scene with numerous galleries and museums, including the Nike Art Gallery.

Festivals: Nigeria hosts numerous colourful festivals throughout the year, celebrating different cultural and religious events.

Hospitality: Nigerian people are famous for their warmth and hospitality, making visitors feel welcome.
In 20021, more than half a million tourists visited Nigeria.
Yes. Nigeria requires visitors from most countries, including the United Kingdom, to obtain a tourist visa before travelling to the country.
To obtain a Nigerian tourist visa, you will need to complete the visa application process, which typically includes: 
Submitting an application form

Providing a valid passport with at least six months validity 

Providing passport-sized photographs

Submitting proof of accommodation and a return flight itinerary

Payment of a visa fee
When travelling to Nigeria from UK, several vaccinations are recommended due to health concerns. A yellow fever vaccination certificate is often required for entry, and it's essential to protect against this mosquito-borne disease. 
Additionally, considering vaccinations for diseases such as polio, typhoid, hepatitis A and B, and meningitis is advisable, as these diseases are prevalent in Nigeria. 
Malaria is a significant concern, so taking malaria medication is a good idea. 
Ensure your routine vaccinations, like measles, mumps, rubella (MMR), tetanus, diphtheria, and whooping cough, are up-to-date.
It's a good idea to consult with a doctor before your trip for personalised recommendations based on your travel plans. 
Vaccine requirements and recommendations can change, so staying informed is crucial for a safe and healthy journey.
The best time to travel to Nigeria depends on your preferences and the specific region you plan to visit, as Nigeria experiences varying weather patterns throughout the year. Here's a general breakdown of the seasons and their suitability for travel:
Dry season (November to February). This is typically considered the best time to visit Nigeria, especially for tourists. The weather is relatively dry, with cooler temperatures and lower humidity.
This season is ideal for outdoor activities, wildlife safaris, and cultural festivals. However, it's also the peak tourist season, so expect higher prices for accommodations and crowded attractions.
Harmattan season (December to February).

The Harmattan is a dry, dusty wind blowing from the Sahara Desert. While it can create hazy conditions and reduced visibility, some travellers find the cooler temperatures and unique atmosphere appealing. It's a good time for cultural experiences and photography.

Rainy season (March to October). Nigeria's rainy season varies by region, with the south experiencing heavier rainfall than the north. Travel during the rainy season can be challenging due to frequent downpours, flooding, and muddy roads.
However, it's an excellent time for lush green landscapes, birdwatching, and lower travel costs. If you plan to visit during this time, prepare for occasional travel disruptions.
Transitional seasons (March-April and September-October).

These months mark the transition between the dry and rainy seasons. Weather conditions can be unpredictable, with a mix of rain and dry spells. It's a less crowded and more budget-friendly time to visit.
Essentially, the best time to travel to Nigeria depends on your preferences for weather, activities, and budget. 
The dry season is ideal if you prefer pleasant weather and are willing to pay higher prices.
However, if you're looking for budget-friendly options and don't mind occasional rain, the transitional or early rainy seasons may be suitable. 
Consider the specific region you plan to explore, as weather patterns vary significantly across Nigeria.
Nigeria offers a variety of tourist attractions that cater to different interests, from cultural heritage to natural beauty. Here are some of the best tourist attractions in Nigeria:
Yankari National Park.

Located in Bauchi State, this park is known for its diverse wildlife, including elephants, hippos, and baboons. It offers opportunities for safaris and birdwatching.

Olumo Rock.

Situated in Abeokuta, this iconic rock formation symbolises the town. Visitors can climb to the top for panoramic views and explore the caves.

Erin Ijesha Waterfalls.

Also known as Olumirin Waterfalls, this natural wonder in Osun State consists of seven tiers of cascading waterfalls surrounded by lush vegetation.

Aso Rock.

This massive rock formation in Abuja is one of the city's prominent landmarks and offers hiking opportunities.

Sukur Cultural Landscape.

A UNESCO World Heritage Site in Adamawa State features a historical hillside settlement with terraced fields and cultural significance.

Nike Art Gallery.

Located in Lagos, this gallery showcases contemporary Nigerian art and crafts, making it a hub for art enthusiasts.

Ogbunike Caves.

Found in Anambra State, these natural limestone caves are both a cultural and spiritual site, offering a unique underground experience.

Zuma Rock.

Often called the "Gateway to Abuja," this monolithic rock formation is a captivating sight along the highway.

Lekki Conservation Centre.

Situated in Lagos, it's the largest urban park in Nigeria and offers a canopy walkway, wildlife viewing, and a serene environment.

Tarkwa Bay Beach.

This picturesque beach in Lagos is a popular spot for swimming, surfing, and relaxation.

Benin City.

Known for its historical significance, it's home to the Benin Bronzes and various artefacts. The city offers insights into Nigeria's rich past.

Osun-Osogbo Sacred Grove.

A UNESCO World Heritage Site, this sacred forest in Osogbo is known for its religious and cultural significance.

Kajuru Castle.

Located in Kaduna State, this medieval-style castle offers a unique lodging experience with stunning views of the surrounding landscape.

Gurara Falls.

Located near Abuja, these waterfalls are a beautiful natural attraction.
These are just a few of Nigeria's tourist attractions. The country's rich cultural diversity, historical sites, and natural beauty offer various experiences for travellers with various interests.
---

Great competitive rates & friendly & helpful staff. Easy to order online & collect in person or delivery.

Great, fast and reliable service would certainly use again for my travel needs, as the rates are the best around!

This amazing company have gone above and beyond in getting a large amount of a rare currency across the pond to Ireland.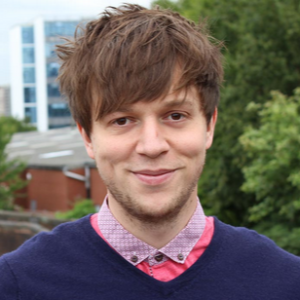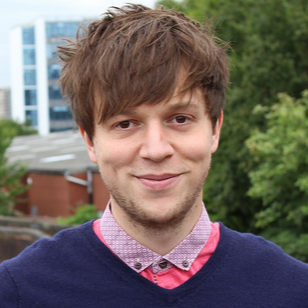 Great rates and really responsive, friendly customer support, will definitely be using Manor FX again.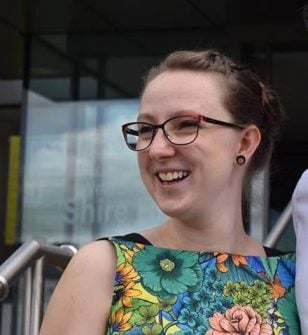 Manor FX gave me a better rate than my bank with great customer service, I highly recommend them.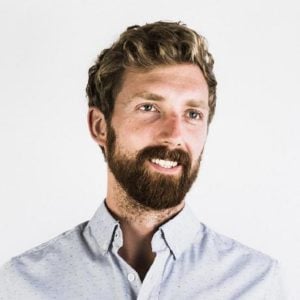 Family run business that's always super helpful. Manor FX's rates are always really good as well!
Get
Nigerian Naira
Fast!
Free home delivery over £750

with Royal Mail Special Delivery 1pm

Better rates than the banks