Get
Argentine Pesos
Fast!
Free home delivery over £750

with Royal Mail Special Delivery 1pm

Better rates than the banks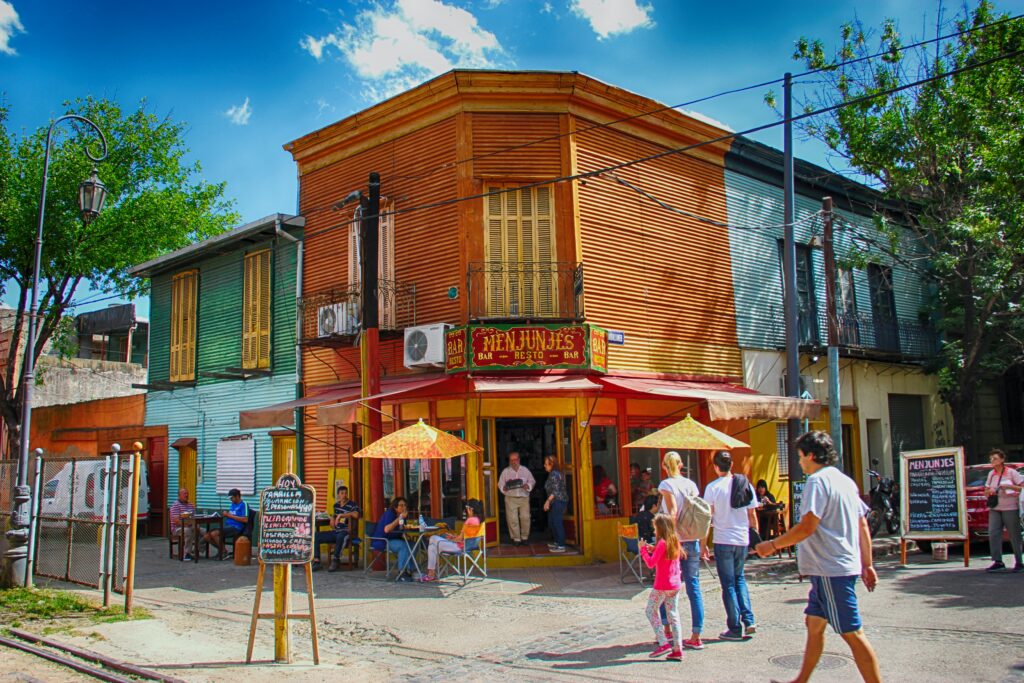 Travelling to Argentina?
Get the best rates for Argentine currency online.
Get ready for your trip to Argentina! Order your Argentine pesos at Manor FX today. Our great exchange rates mean you'll have more ARS cash to spend.
Benefit from fast delivery and our fuss-free online ordering process. Get Argentine Peso banknotes securely delivered to your home or office. Or pick them up from the Manor FX bureau near Heathrow.
Argentine travel money
Jet off well-informed to Argentina. Here are some handy facts about cash, card payments, costs and more in Argentina.
Where can you get Argentinian pesos?
If you're planning a trip to Argentina and need some local currency, there are several ways you can get Argentinian pesos:
Currency exchange offices or bureaux de change on high streets, in city centres and airports.
Online currency providers like us here at Manor FX that specialise in currency exchange. Make sure to choose a reliable provider and compare rates and delivery options (Top tip, our rates are the best in the country!)
Local travel agencies. Some may offer currency exchange services.
Prefer the convenience of online shopping? We can deliver Argentinian pesos right to your doorstep. You can also get the same great exchange rates in our bureau de change in Datchet.
Argentine pesos are an exotic or minor currency, so you won't find them at most banks or the Post Office. Remember to plan ahead and compare rates and fees to get the most favourable exchange rate.
It's also good to check the latest travel advisories and restrictions before purchasing any foreign currency.
Can you buy Argentine pesos in UK?
Absolutely, but because Argentinian pesos are an exotic currency, there are fewer places where you can buy them.
Whether you're dreaming of tangoing in Buenos Aires or exploring the stunning landscapes, getting your hands on some Argentinian pesos in the UK is possible with us.
We offer the best rates and deliver currency right to your door. Wherever you are in the UK, you can buy Argentinian pesos ready for your trip.
Should I exchange money before I travel to Argentina?
Yes. When planning a trip to Argentina, it's a good idea to exchange some GBP to pesos before you go.
You can exchange your pounds for pesos on arrival, but it's better to have some local currency available when you land. It can save you from hassle, long queues, or unfavourable rates at the airport.
What is the best currency to bring to Argentina?
It's best to bring Argentine pesos when travelling to Argentina. It's also a good idea to bring some US dollars with you.
Can I use my bank card in Argentina?
Yes. All international hotels and large shopping malls in Buenos Aires and other main cities in Argentina will generally accept international debit and credit cards.
British cards may not work in some Argentinian payment terminals. This is especially true for smaller supermarkets and shops, and vendors in suburbs, small cities and more remote places.
Vendors may also require you to spend a minimum amount before they accept payment by card to cover the card fees.
Some British banks may charge for international card payments. In addition, your bank's ARS (Argentine pesos) to GBP exchange rate may not be so good. This is how banks make money.
Contact your bank before using your card for payments in Argentina to avoid your bank card getting blocked.
Should I use cash in Argentina?
Yes, especially if you plan to travel around Argentina – cash is still the most popular means of payment. Having cash can also come in handy for bargaining and getting better deals.
Many shops in suburbs and small cities will only accept cash. This is also true for greengrocers, butchers, newspaper stands, street food vendors and candy stores.
American dollar banknotes are widely accepted in downtown Buenos Aires and other touristic cities. Some downtown shops will accept Brazilian Reais as well.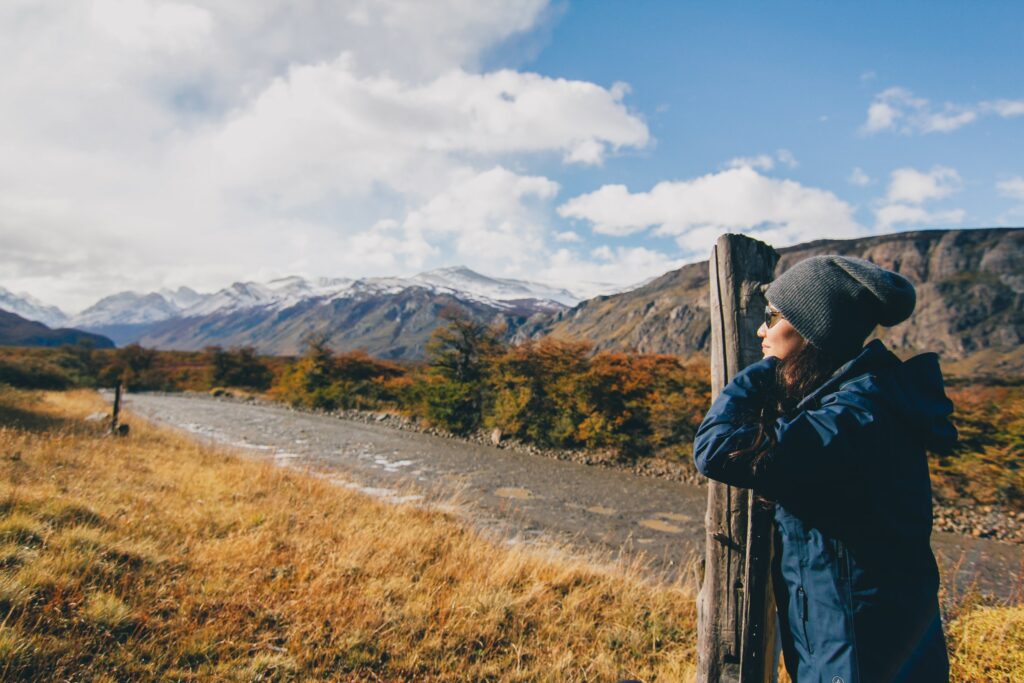 Is it better to use cash or credit card in Argentina?
We recommend that you carry cash with you. Credit cards are widely accepted in major cities and tourist areas, but smaller establishments and local markets often prefer cash. Plus, some places might even offer discounts for cash payments. Having a credit card as a backup doesn't hurt, though.
How much cash should I take to Argentina?
It depends on your spending habits and the length of your trip. Argentina is a diverse country, and costs can vary a lot. Ideally, have some cash in your pocket for smaller purchases in case you come across places that don't accept cards.
Aim to have around 15000-20000 Argentine pesos (£30 to £60) per day for basic expenses like meals, transportation, and small purchases. However, you might want to bring more if you plan on indulging in fine dining, shopping, or visiting high-end establishments.
How can I avoid ATM fees in Argentina?
Most ATMs in Argentina charge a fee for withdrawals, especially if you're using a foreign card. Here's what you can do to avoid those fees:
Plan ahead: Exchange your pounds to Argentine pesos before you leave the UK.
Look for fee-free ATMs: Some banks in Argentina offer fee-free withdrawals for certain foreign cards.
Withdraw larger amounts: Instead of making multiple small withdrawals and paying multiple ATM charges, withdraw more significant amounts less often.
Use your card for purchases: Whenever possible, use your card for purchases to avoid ATM fees.
Is life expensive in Argentina?
Coffee in a local cafe will cost 100-150 pesos (28-48p). A three-course meal in a mid-range restaurant costs between 5000 and 8000 pesos (£14-£22).
Accommodation, food, transportation, attractions and activities are generally affordable. Tourists can explore the country's cultural and natural wonders without breaking the bank.
Souvenirs, handicrafts, and local products are reasonably priced, providing opportunities to bring home unique souvenirs of their trip.
How does tipping work in Argentina?
If you eat or drink in restaurants or cafes, you should leave a tip in cash. Tips are an important part of the staff's income.
Tips are usually in the 5% to 10% range but can be more if the service is exceptional.
Is it rude not to tip in Argentina?
No, it is not rude not to tip in Argentina. Unlike in the UK, tipping isn't expected or customary. But, if you receive exceptional service or want to show appreciation, leaving a small tip is always appreciated.
Is Argentina a cheap country to visit?
It depends on your budget and what you're looking to do. It can get quite pricey if you plan to splash out on fancy hotels and dining at high-end restaurants.
Your money will go further if you're happy to stay in more budget-friendly accommodation and eat at local places. Especially since the financial crisis.
Argentina offers a good balance between quality and affordability.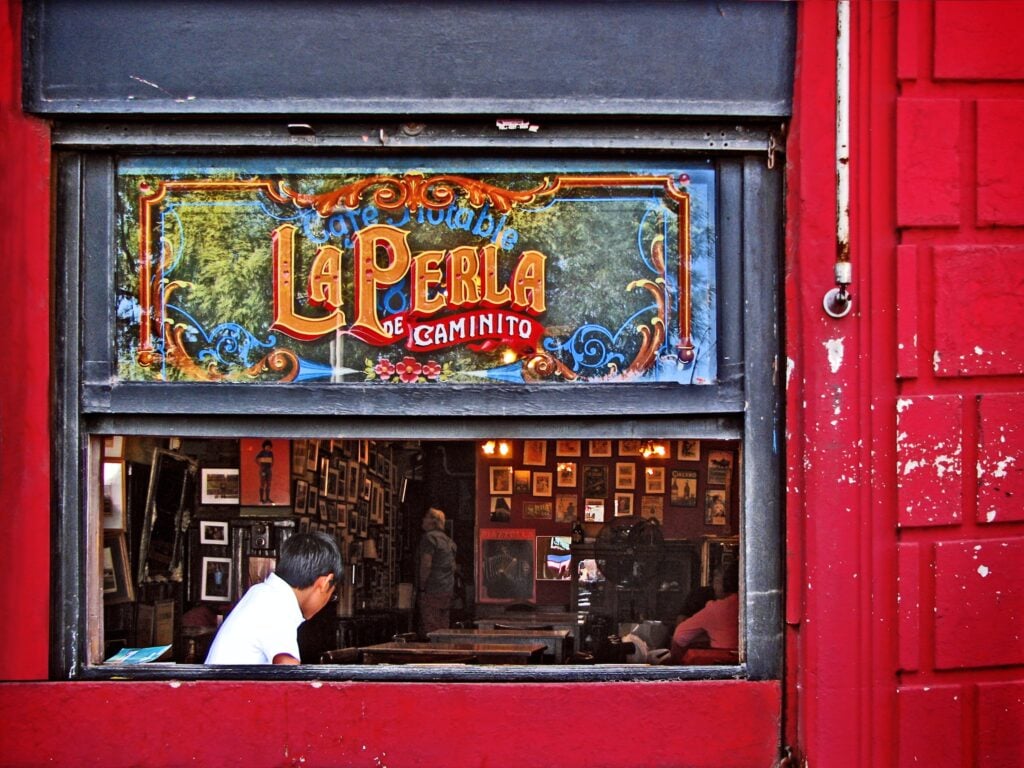 Argentinian Currency
Banknotes in Argentina
Banknotes in Argentina come in various denominations and feature prominent figures from the country's history, landscapes, and cultural symbols.
Two sets of ARS banknotes are circulating alongside each other:
The 3rd series features portraits of national heroes, including Manuel Belgrano and Evita Peron.
The 4th series features animals living in Argentina and has a vertical design.
Banknotes in circulation are $5, $10, $20, $50, $100, $200, $500 and $1000. Don't accept banknotes of $2 and $1 banknotes since coins have replaced these.
High inflation wiped out much of the value of the Argentine peso over the past years. Since then, new higher-denomination banknotes have been introduced.
The smaller banknotes remain in circulation and are often quite worn out and sometimes dirty. Wash your hands often.
Additionally, it's always a good idea to be cautious when handling currency and avoid using or accepting damaged or counterfeit banknotes.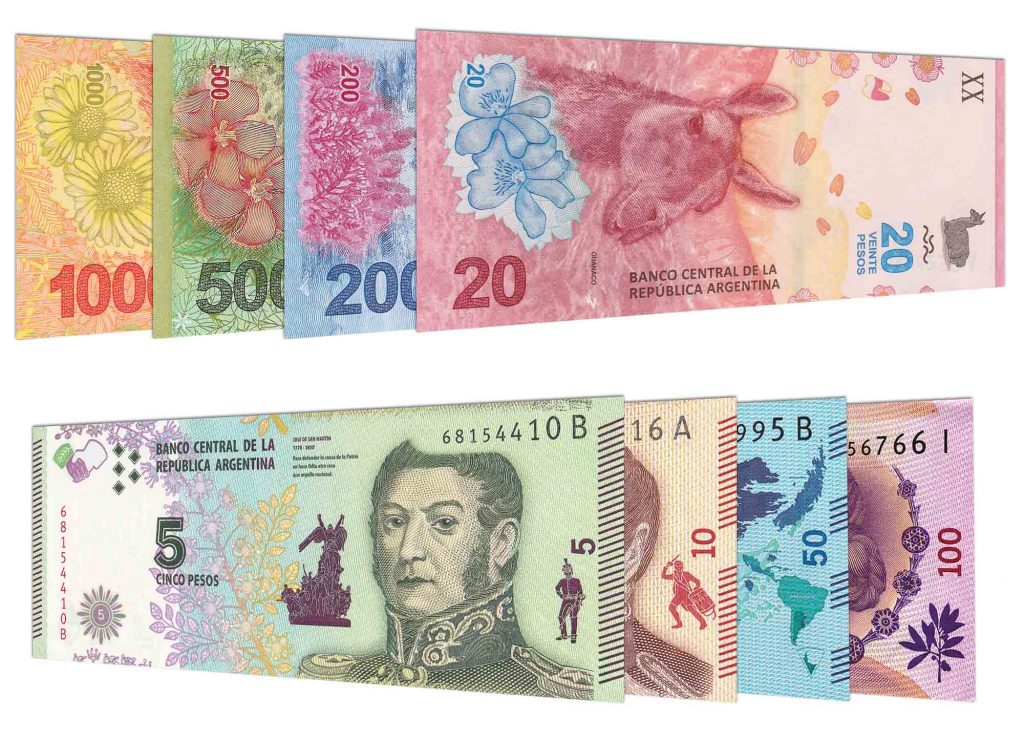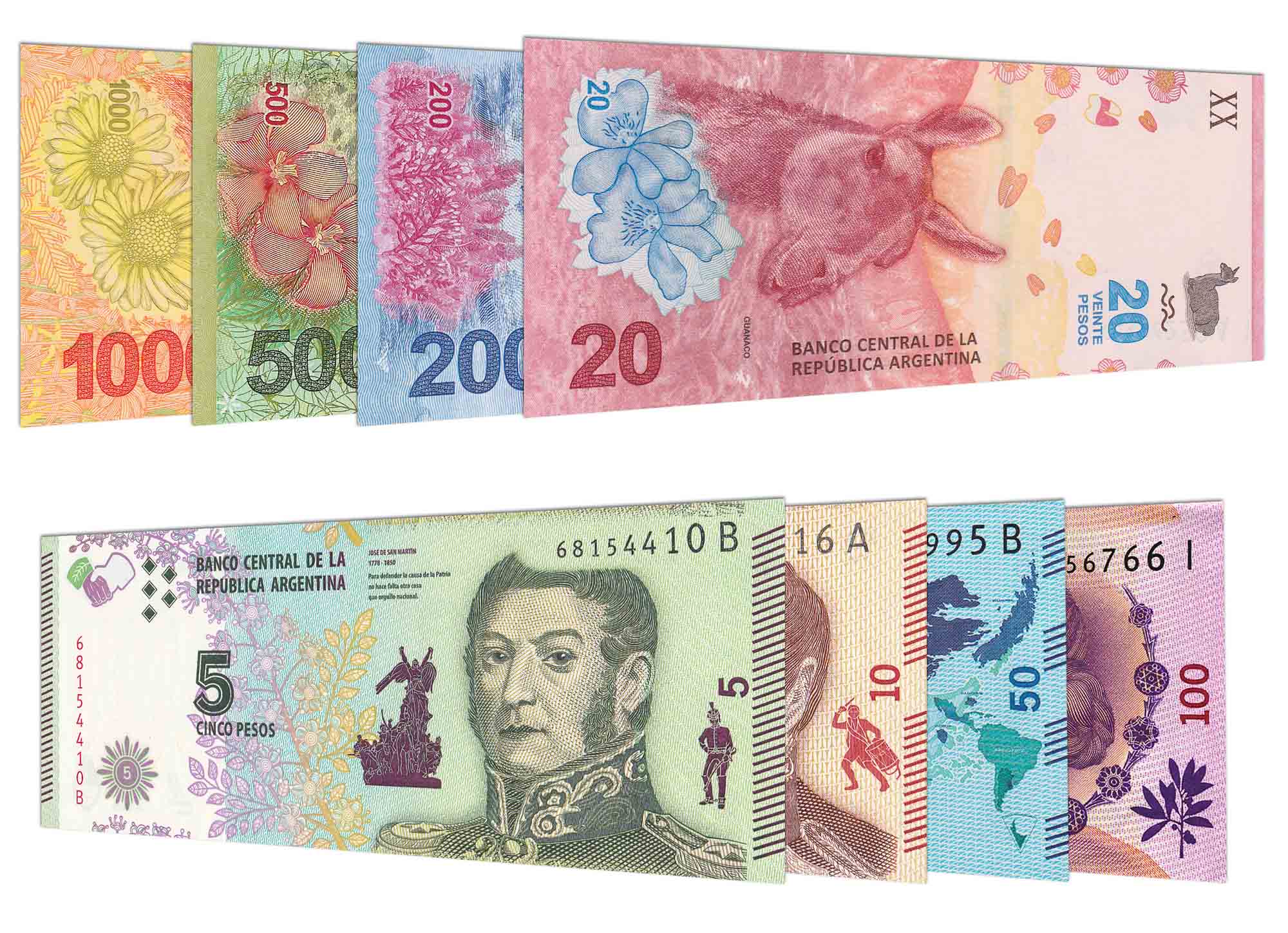 Coins in Argentina
Argentinian coins range from 5 centavos (0.05 pesos) to 10 pesos. They feature national symbols on one side and the denomination and year of minting on the other.
When handling coins, be aware of their condition and authenticity to avoid accepting or using counterfeit currency.
Did you get back from Argentina with some leftover coins? Our sister company Leftover Currency can help you to exchange Argentine peso coins back into cash.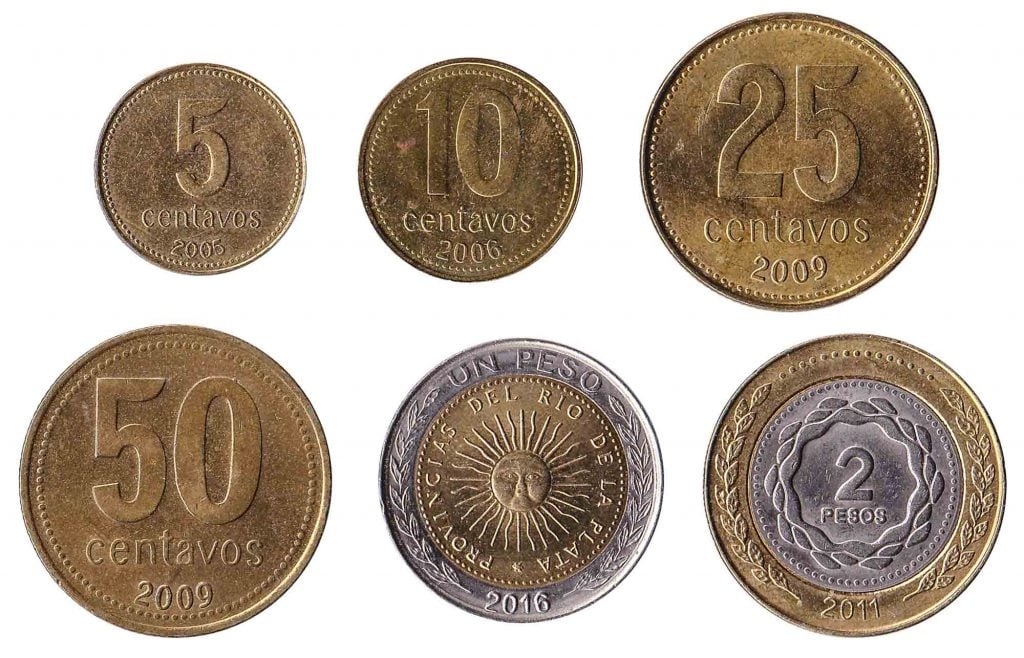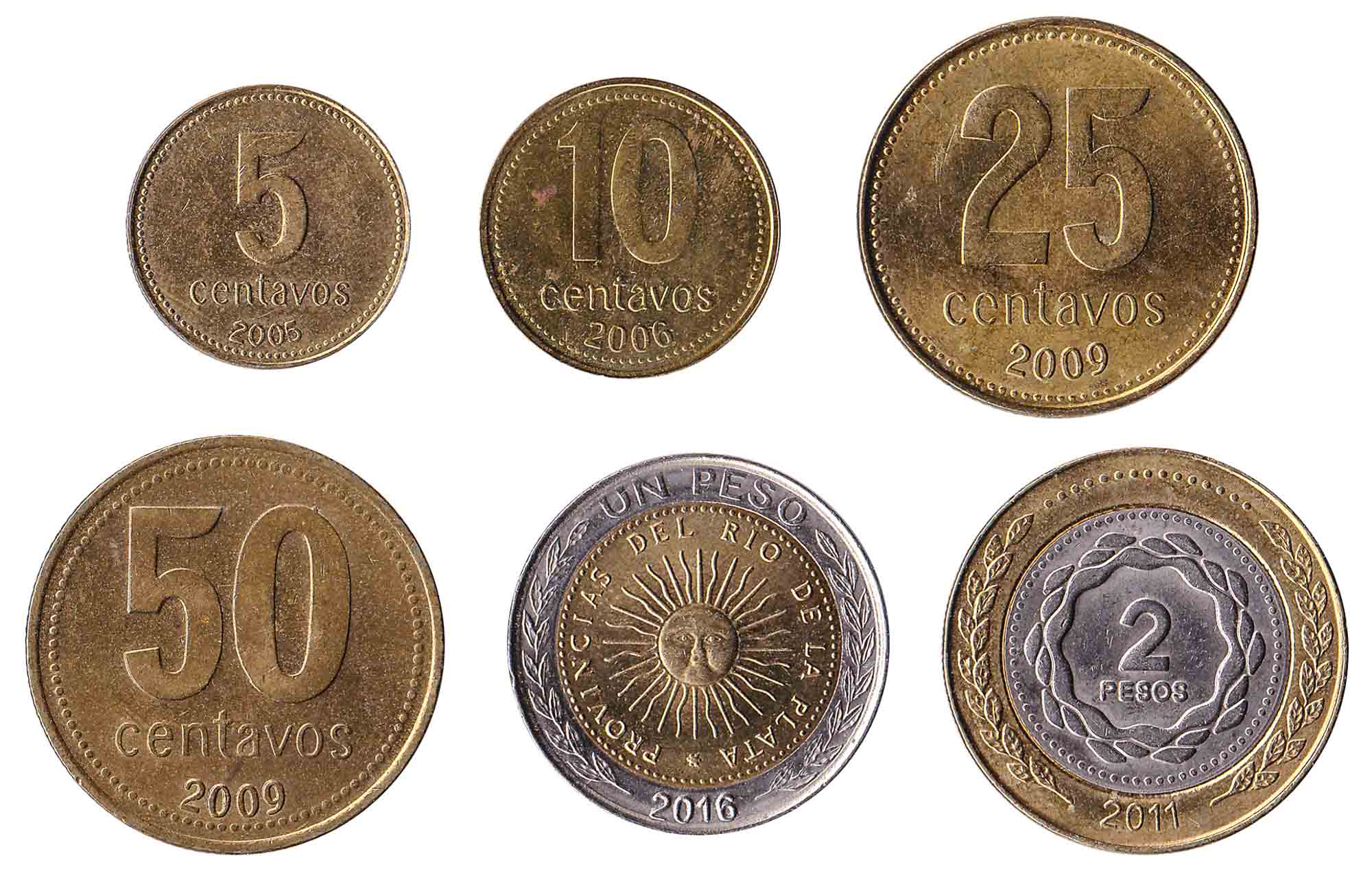 Argentina's currency import and export regulations
There are no restrictions on the import or export of Argentine Pesos into and from Argentina. But, if the value is more than $10,000 USD, you should declare it. Exporting foreign currency from Argentina is not permitted if the value is worth more than $10,000 USD.
Ordering Argentine pesos online
With Manor FX, you can order your Argentine Pesos online. Then get them delivered fast and securely to your home or office with Royal Mail Special Delivery Guaranteed®. Or you can pick them up from our travel money shop near Heathrow. Click here to buy Argentine Pesos online.
Selling back Argentine pesos
If you have Argentine pesos to sell, follow this link to exchange Argentine pesos to pounds. Click on 'sell currency' and select 'ARS Argentine peso'. We'll pay good rates for your leftover Argentine pesos.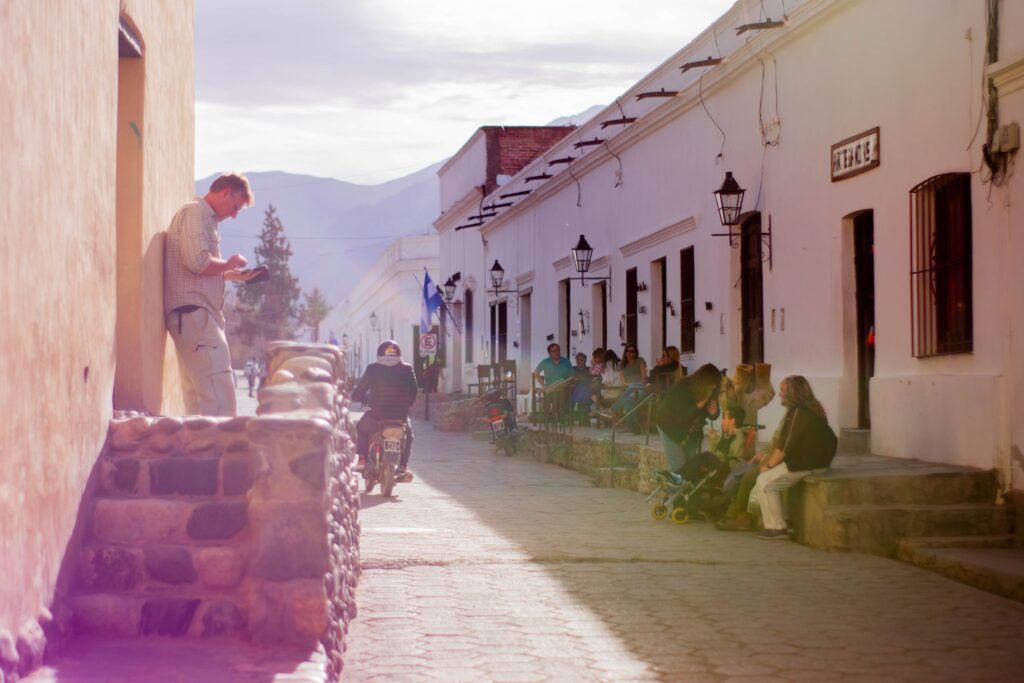 FAQs
Whether you need a visa to travel to Argentina depends on why you're visiting.
Many citizens can visit Argentina as short-term tourists and stay for up to 90 days without a visa.
Travellers from the United States, Canada, and Australia must pay a 'reciprocity fee' online before travelling to Argentina. Once you have paid the fee, you can visit Argentina multiple times in ten years from the date of payment or until the passport expires, whichever comes first.
If you plan to work in Argentina, you usually need to apply for a work visa before travelling. The process can be complicated, and you may need sponsorship from an Argentine employer.
If you plan to study in Argentina, you usually need to apply for a student visa before your trip. An Argentine educational institution will need to provide you with some documents for the student visa application process.
Visa regulations can change. Your nationality and why you're visiting may also mean that there are specific visa categories or requirements. 
Always make sure that you have your visa and travel documents in order for your trip to avoid any complications or issues.
You don't need specific vaccines to visit Argentina, but ensure you're up-to-date with routine vaccinations before you travel.
The best months to travel to Argentina depend on your interests and where you plan to visit. It's a vast and diverse country with a range of climates and landscapes.
Spring (September to November) and autumn (March to May) are great times to visit Buenos Aires, Iguazu Falls and the central regions. These seasons mean comfortable temperatures and fewer crowds, so you can explore the city's cultural attractions and enjoy outdoor activities.
Spring (October to November) and Summer (December to February) are the ideal times to visit Patagonia. The weather is mild, and many outdoor activities, such as trekking and wildlife watching, are at their best during this period.
Northern Argentina (including Salta and Jujuy) has a subtropical climate. The best time to visit is from April to September in the cooler, dry season. This period provides more comfortable temperatures for exploring the region's beautiful landscapes, colonial cities, and rich cultural heritage.
If you plan to visit Argentina's wine regions in Mendoza and Cafayate, the best time is between February and April when they harvest the grapes. You can enjoy wine festivals and special events celebrating the harvest.
Remember that Argentina is in the Southern Hemisphere, so the seasons are opposite to those in the Northern Hemisphere. 
---

Great competitive rates & friendly & helpful staff. Easy to order online & collect in person or delivery.

Great, fast and reliable service would certainly use again for my travel needs, as the rates are the best around!

This amazing company have gone above and beyond in getting a large amount of a rare currency across the pond to Ireland.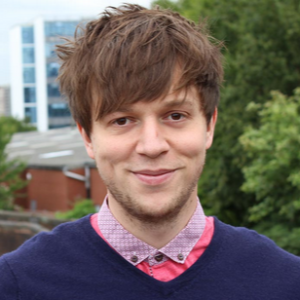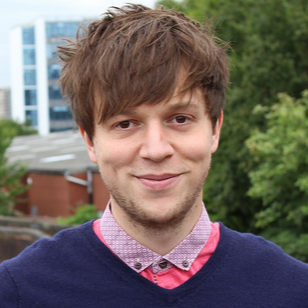 Great rates and really responsive, friendly customer support, will definitely be using Manor FX again.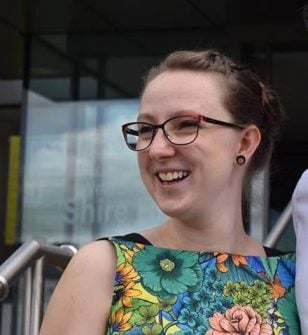 Manor FX gave me a better rate than my bank with great customer service, I highly recommend them.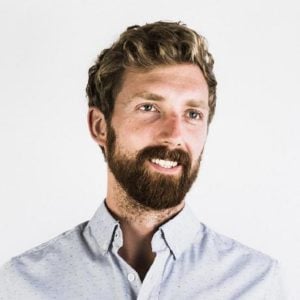 Family run business that's always super helpful. Manor FX's rates are always really good as well!
Get
Argentine Pesos
Fast!
Free home delivery over £750

with Royal Mail Special Delivery 1pm

Better rates than the banks