Get
North Macedonian Denars
Fast!
Free home delivery over £750

with Royal Mail Special Delivery 1pm

Better rates than the banks
Travelling to North Macedonia?
Get the best rates for North Macedonian denars online
Gear up for an exhilarating time in North Macedonia! Secure your North Macedonian denars (MKD) at Manor FX today.
Our superb Macedonian denar exchange rate means you'll have more denars for your travels.
Opt for secure delivery of your currency for Macedonia to your home or office. Or pay us a visit and collect your denars from our bureau de change near Heathrow.
Manor FX promises speedy delivery and an effortless online ordering process for your North Macedonian denar travel money.
North Macedonian travel money
Preparing for a trip to explore North Macedonia's enchanting landscapes and cultural heritage? Here are some essential tips about cash and card payments in North Macedonia.
Where can I get North Macedonia currency?
The North Macedonian denar is a minor currency. You might find exchanging your GBP to MKD at local banks and currency exchange offices challenging.
It's wise to plan ahead and examine your options to convert your pounds to Macedonian denars.
Getting your North Macedonia MKD to your doorstep offers unparalleled convenience.
We provide competitive exchange rates, so you'll have more to spend on your North Macedonian adventure!
You can also collect your travel money from the Manor FX bureau near Heathrow. We assure you the same excellent rates for in-person exchanges.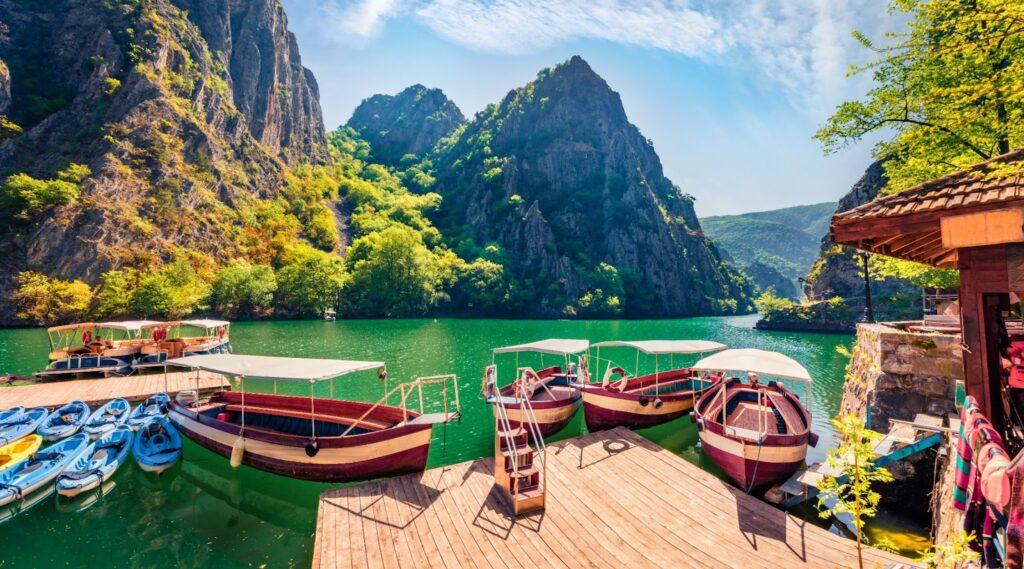 Can you buy North Macedonian denars in the UK?
Yes! If you've found yourself asking where can you buy Macedonian denar in the UK, don't worry. Manor FX has got you covered.
Avoid the hassle and order your North Macedonian denars online today. Our service offers a smooth online ordering experience with free delivery for orders over £750.
Why is North Macedonian denar abbreviated to MKD?
The abbreviation "MKD" for North Macedonia's currency combines "MK" from "Macedonia" and "D" from "denar," the name of the currency.
"MK" represents the country, and "D" represents the currency.
Should I exchange money before travelling to North Macedonia?
Yes! Having North Macedonian denars before your trip is a great idea.
While you can exchange currency on arrival, having some denars in your pocket when you land is convenient for immediate expenses like transport or a quick meal.
Is North Macedonian denar a closed currency?
The North Macedonian denar isn't a fully "closed" currency. You can exchange it for other currencies and use it for international transactions, though it's less widely traded than major currencies.
What is the best currency for North Macedonia?
The official currency is the North Macedonian denar, the most practical and widely accepted currency for transactions.
Euros are also accepted in some areas, particularly for larger expenses like accommodation. Nevertheless, for day-to-day purchases, denars are more appropriate.
A blend of local and foreign currencies can offer flexibility during your visit.
Remember to convert your MKD to GBP when you return from North Macedonia.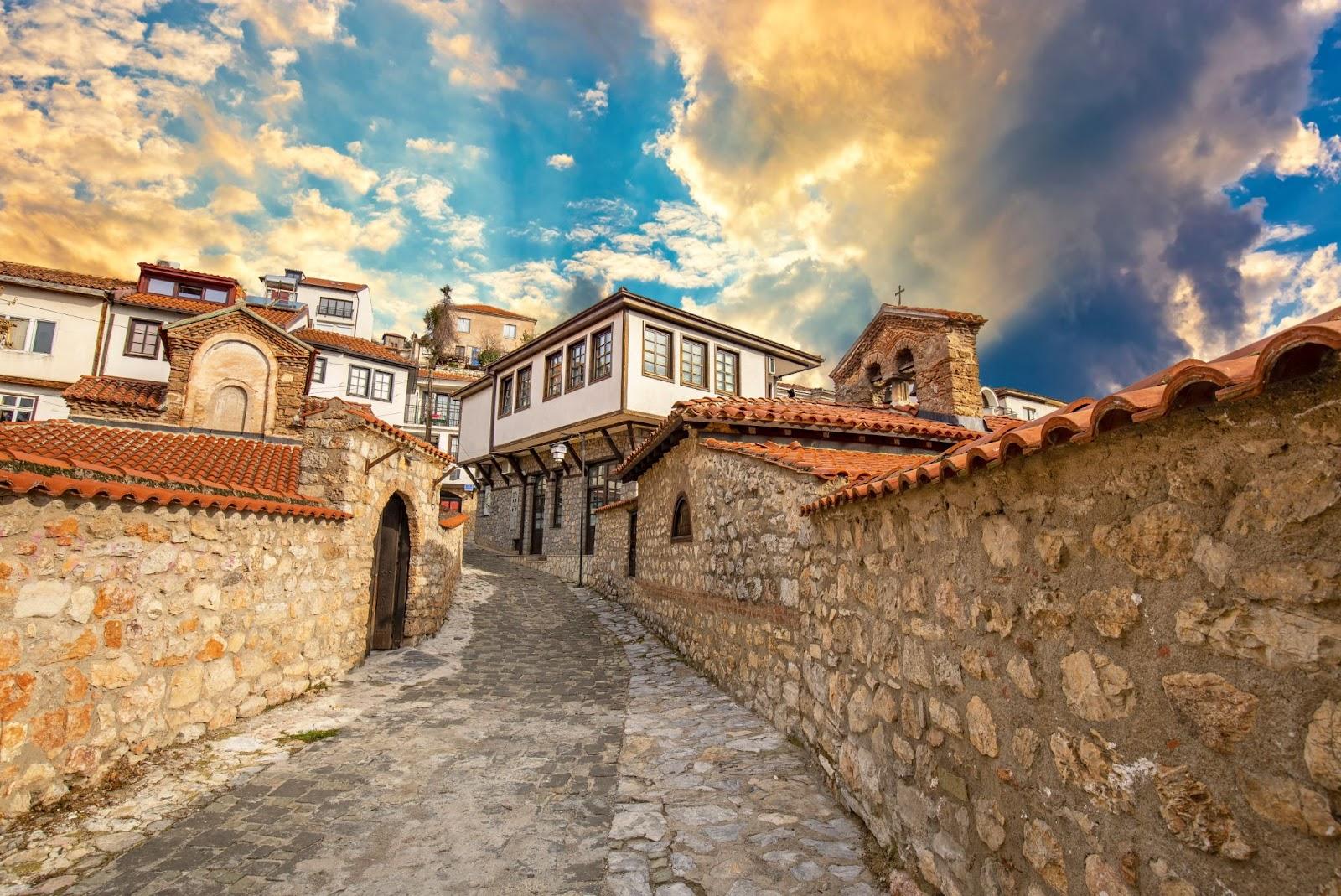 Does North Macedonia use euros?
North Macedonia doesn't use the Euro as its official currency. The official currency of North Macedonia is the Macedonian Denar (MKD).
It might be possible to use euros in some tourist areas or for certain transactions. It's important to remember that this is not the norm and should not be relied upon.
Can I use my bank card in North Macedonia?
Yes. Bank cards are widely accepted in North Macedonia, including shops, restaurants, and ATMs. This provides easy access to funds during your stay.
However, British banks might impose charges and apply high currency exchange fees for international card payments. The bank's Macedonian denar to GBP exchange rate may not be favourable either.
Tip: Inform your bank about your travel plans before using your card in North Macedonia.
Should I use cash in North Macedonia?
Definitely, cash is a wise choice in North Macedonia. While cards can be used in many places, cash is invaluable for local markets and smaller establishments.
Many local shops, smaller supermarkets, and taxis only accept cash or local cards. Street vendors strictly deal in cash.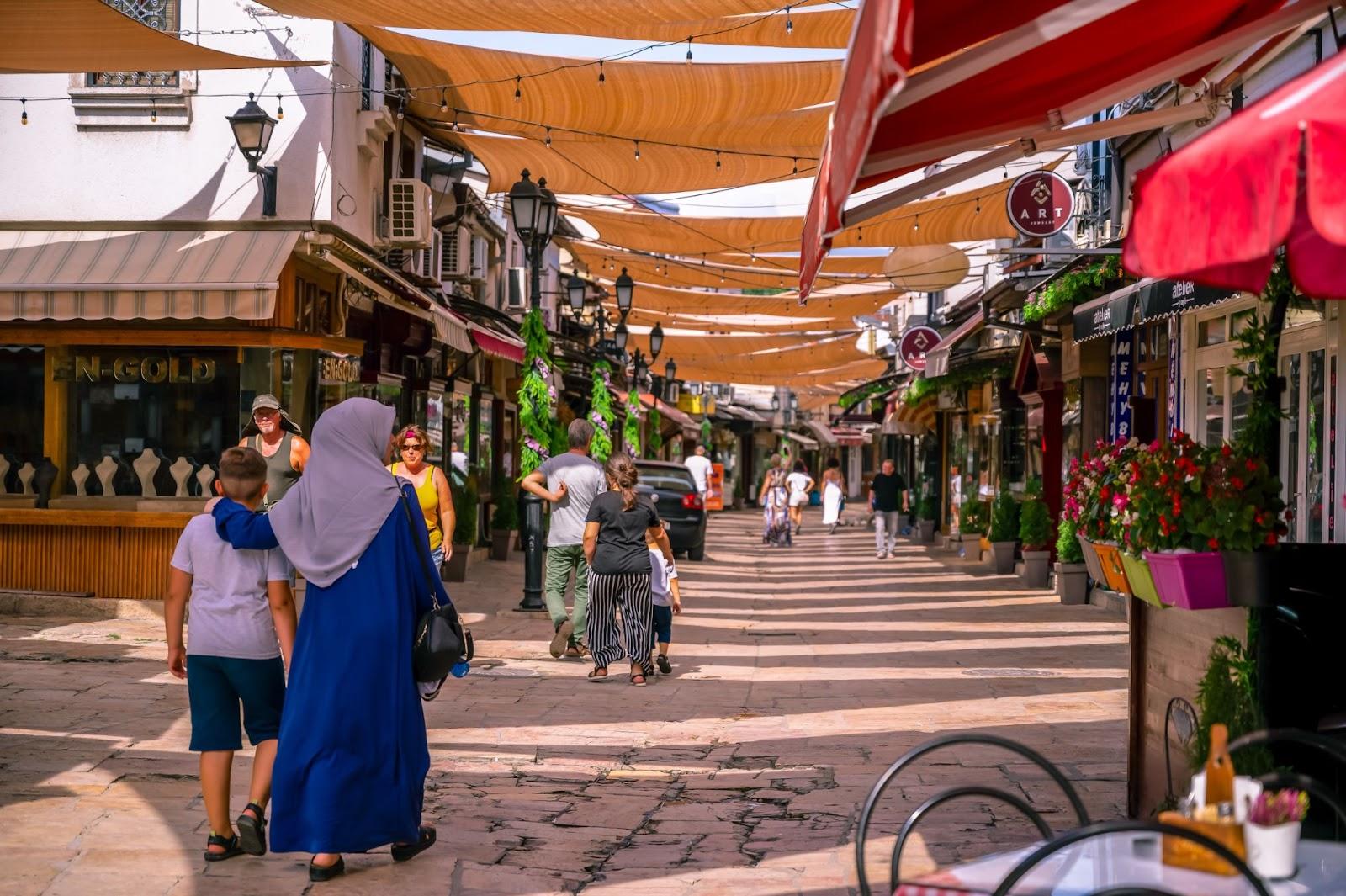 Is it better to use cash or credit card in North Macedonia?
Having both cash and credit cards is beneficial in North Macedonia.
Card payments are common, providing convenience. However, some delightful local markets, quaint street vendors, and cosy family-run eateries prefer cash.
So, a combination of cash and cards ensures you're well-prepared for your North Macedonian journey!
How can I avoid ATM fees in North Macedonia?
Avoiding ATM fees in North Macedonia is possible. Withdraw larger amounts less frequently to reduce transaction fees.
Use ATMs within your bank's network to decrease or eliminate fees.
Alternatively, use a credit card that offers fee-free international withdrawals. And consider exchanging some currency for denars before your trip to cover smaller costs.
Is North Macedonia cheap to visit?
North Macedonia offers budget-friendly travel experiences.
Your spending here can stretch further, from accommodation to dining and exploration. It's a fantastic destination for enjoying memorable experiences without overspending.
Prepare for an amazing, wallet-friendly adventure in North Macedonia!
How much cash should I take to North Macedonia?
The amount of cash you'll need will vary depending on your travel style, activities, and preferences. Here are some guidelines for each:
Budget travel:
Accommodation: Budget accommodations like hostels or budget hotels can cost around 500-1,000 MKD per night. That's £7 – £14.
Food: Eating at local eateries or street food might cost approximately 300-500 MKD per meal. Approximately £4 – £7 per meal.
Transportation: Public transport and occasional taxis might add up to about 200-400 MKD per day. That's £3 – £6 per day.
Activities: Free or low-cost activities like hiking or visiting public sites.
Daily budget: Around 1,000-2,000 MKD per day. In GBP, that's £14 – £28.
Mid-range travel:
Accommodation: Mid-range hotels or guesthouses could cost 2,000-4,000 MKD per night. That's £28 – £56.
Food: Dining at mid-range restaurants could be about 800-1,500 MKD per meal. Around £11 – £21 per meal.
Transportation: More frequent taxi rides or car rentals, averaging 1,000-2,000 MKD daily. Approximately £14 – £28 per day.
Activities: Paid tours and entrance fees to attractions, potentially adding 1,000-2,500 MKD per day. £14 – £35 per day.
Daily budget: Approximately 4,000-8,000 MKD per day. Budget £56 – £115.
Luxury travel:
Accommodation: High-end hotels or resorts can cost upwards of 5,000 MKD per night. Equal to £70 per night.
Food: Fine dining experiences could be around 2,000-4,000 MKD per meal. From £28 to £56 per meal.
Transportation: Private drivers or higher-end rental cars, possibly exceeding 2,500 MKD daily. Upwards of £35 per day.
Activities: Exclusive experiences like private tours, wine tastings, or spa services vary greatly. They may start from 3,000 MKD and upwards per activity. From £42 per activity.
Daily budget: 10,000 MKD or more per day. Budge £140+ per day.
How does tipping work in North Macedonia?
Tipping in North Macedonia is appreciated as a kind gesture.
While not obligatory, a small tip of about 5-10% of the bill is a thoughtful way to show appreciation for good service in restaurants and cafes.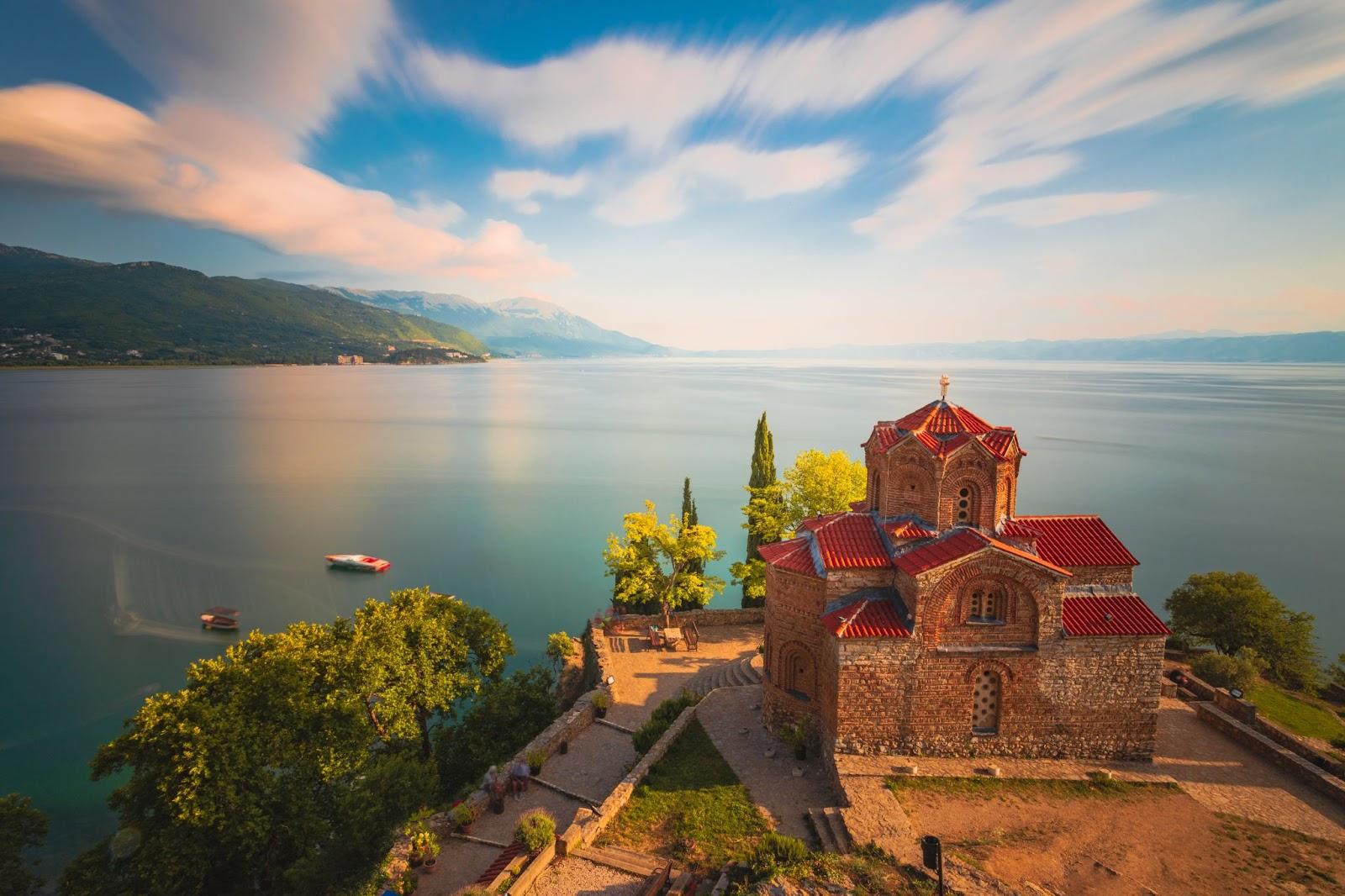 North Macedonian currency
Banknotes in North Macedonia
The National Bank of North Macedonia issues the country's banknotes. They feature various denominations adorned with historical figures and landmarks.
Banknotes in circulation are 10 MKD, 50 MKD, 100 MKD, 500 MKD, and 1,000 MKD. These often showcase the rich cultural heritage and history of North Macedonia.

Coins in North Macedonia
North Macedonian coins range from 1 denar to 50 denars. These coins will become familiar as you explore, each holding a piece of North Macedonian history.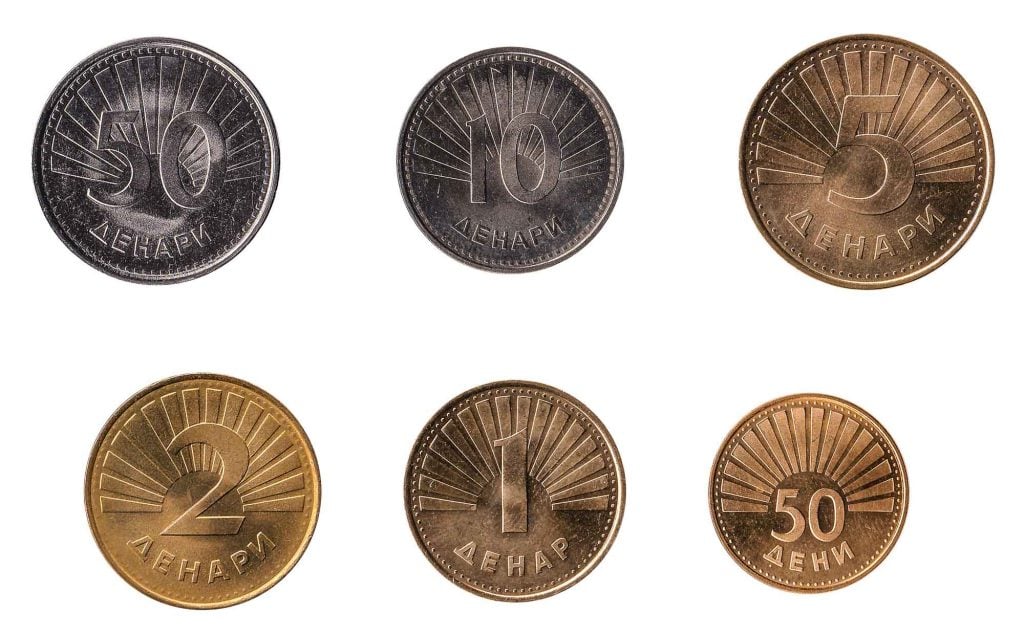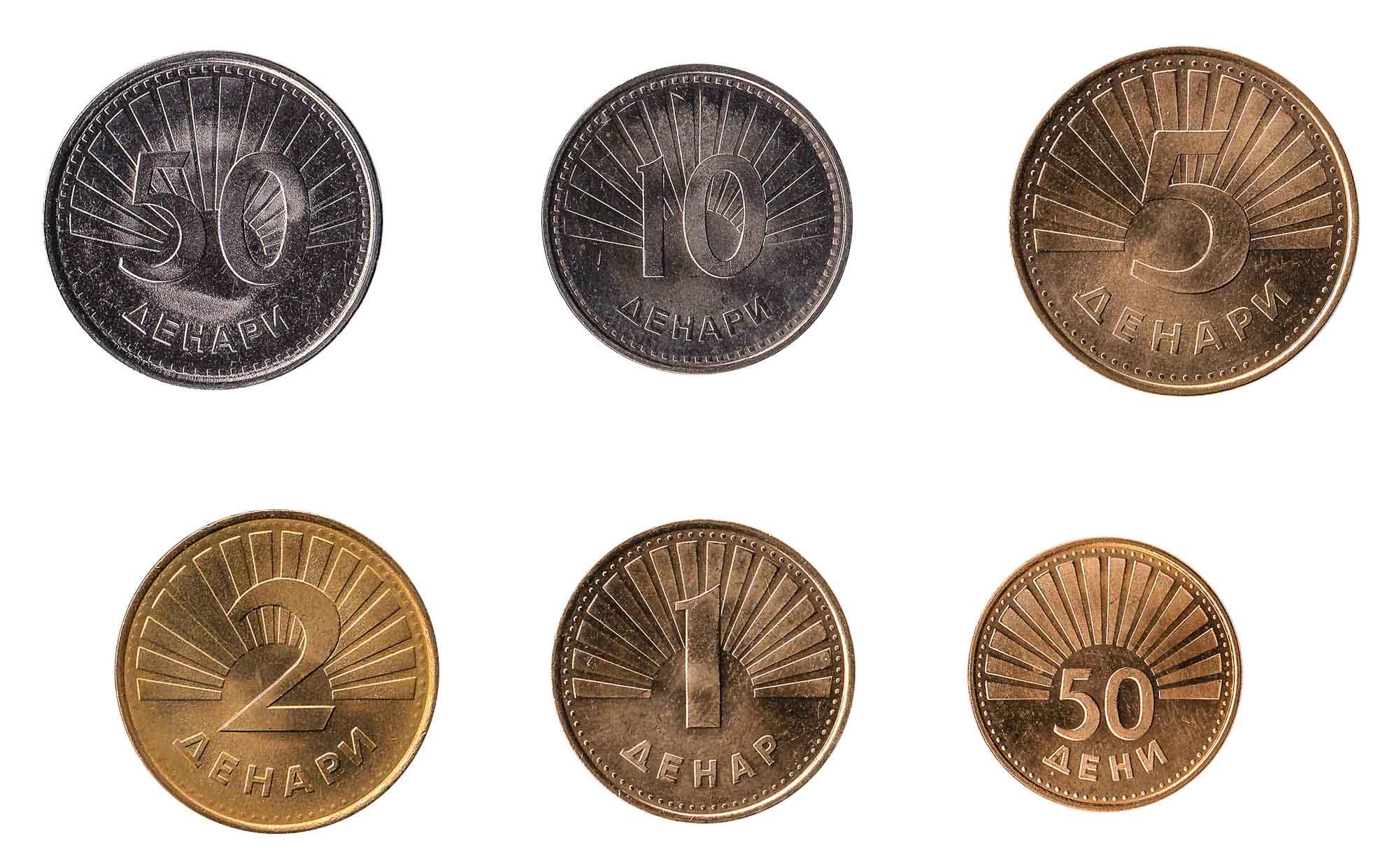 North Macedonia's currency import and export regulations
Import of currency:
There are no restrictions on the amount of foreign or domestic currency you can bring into North Macedonia.
However, you need to declare amounts exceeding the equivalent of €10,000 (or its equivalent) upon entry. This declaration is important for re-export purposes.
Export of currency:
When leaving North Macedonia, the same rule applies. You are allowed to take out any amount of foreign or domestic currency.
You must declare amounts exceeding the equivalent of €10,000 at customs.
It's important to note that if you carry an amount exceeding what you declared upon entry (if it was above the declaration threshold), you may need to provide proof of its legal acquisition (like withdrawal slips, bank statements, etc.).
Ordering North Macedonian denars online
Convert your pounds to MKD online and have them delivered to your home or office.
We offer secure and quick delivery with Royal Mail Special Delivery Guaranteed®. Alternatively, pick them up from our travel money shop near Heathrow. Click here to buy North Macedonian denars online.
Selling back North Macedonian denars
If you have North Macedonian denars to sell, follow this link to convert Macedonian denars to pounds, click on 'sell currency' and select 'MKD North Macedonian denars'. We offer competitive rates for your leftover denars.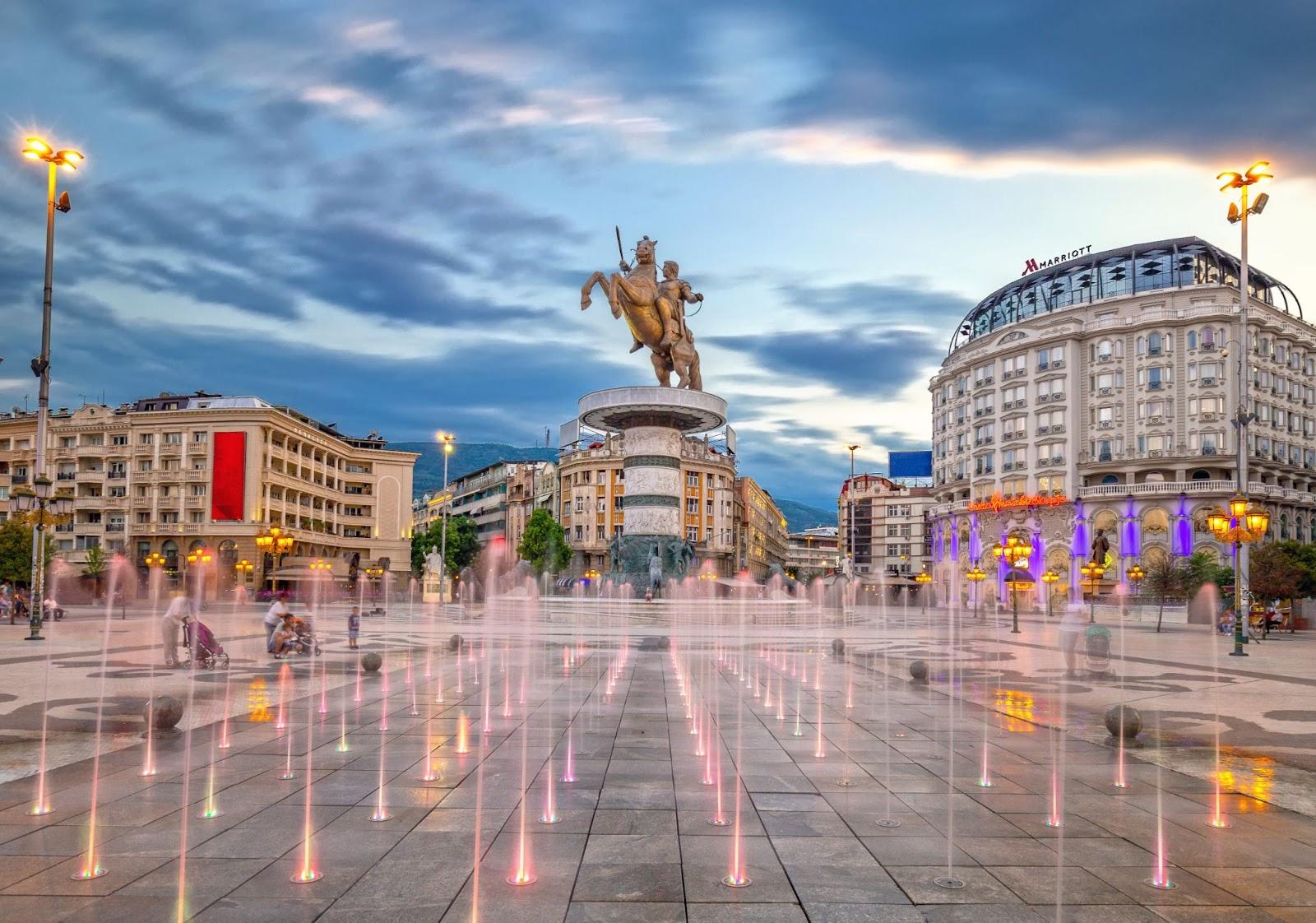 FAQs
In North Macedonia, the official language is Macedonian. It's a South Slavic language and is widely spoken throughout the country. Additionally, Albanian is also recognised as a co-official language in municipalities where ethnic Albanians constitute over 20% of the population. 
Other minority languages like Turkish, Romani, Serbian, Bosnian, and Aromanian are also spoken in various regions of the country. English is commonly spoken as a foreign language, particularly among the younger population and in tourist areas.
UK passport holders can enter North Macedonia without a visa for short stays up to 90 days within a six-month period.
There are no mandatory vaccine requirements for travellers entering North Macedonia for most nationalities. However, it's always wise to be up-to-date with routine vaccinations when travelling to any destination. These typically include vaccines for measles-mumps-rubella (MMR), diphtheria-tetanus-whooping cough, chickenpox, polio, and your yearly flu jab.
The best time to visit North Macedonia generally depends on what you want to do and see during your trip. Here's a breakdown of the different seasons and what they offer:
Spring (March to May):
Spring is a lovely time to visit, especially for outdoor activities like hiking.

The weather is mild, and nature is in bloom, making it ideal for exploring national parks and the countryside.

Tourist crowds are fewer, and accommodation prices are often lower.
Summer (June to August):
Summer is peak tourist season, especially in July and August.

This period is perfect for enjoying the country's lakes and outdoor festivals.

The weather can be pretty hot, especially in cities like Skopje.
Autumn (September to November):
Autumn offers cooler temperatures and beautiful fall foliage.

It's a great time for wine tours, as it's the grape harvesting season.

Like spring, autumn sees fewer tourists and offers a more relaxed travel experience.
Winter (December to February):
Winter is ideal if you're interested in winter sports. Resorts like Mavrovo become popular for skiing.

Cities can be quite cold, but there are fewer tourists, and you'll experience a different side of Macedonian culture.

Note that some attractions might have reduced hours or be closed.
Overall, the best time for most visitors is either late spring (May) or early autumn (September to October) when the weather is pleasant and there are fewer tourists. 
However, you might prefer other times if you're interested in specific activities like skiing or attending cultural festivals.
---

Great competitive rates & friendly & helpful staff. Easy to order online & collect in person or delivery.

Great, fast and reliable service would certainly use again for my travel needs, as the rates are the best around!

This amazing company have gone above and beyond in getting a large amount of a rare currency across the pond to Ireland.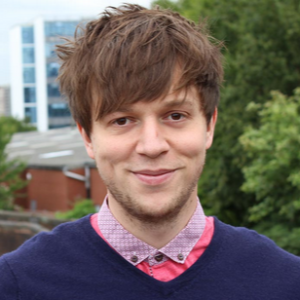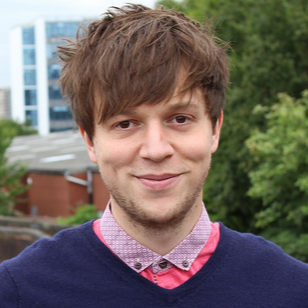 Great rates and really responsive, friendly customer support, will definitely be using Manor FX again.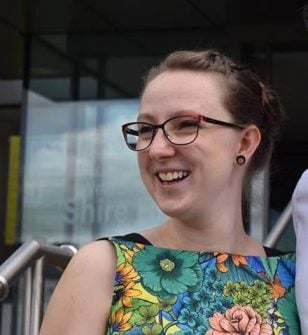 Manor FX gave me a better rate than my bank with great customer service, I highly recommend them.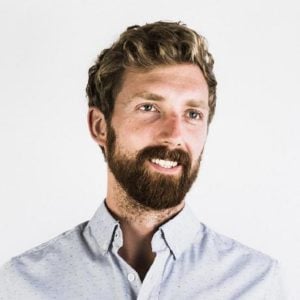 Family run business that's always super helpful. Manor FX's rates are always really good as well!
Get
North Macedonian Denars
Fast!
Free home delivery over £750

with Royal Mail Special Delivery 1pm

Better rates than the banks