Get
Vietnamese Dong
Fast!
Free home delivery over £750

with Royal Mail Special Delivery 1pm

Better rates than the banks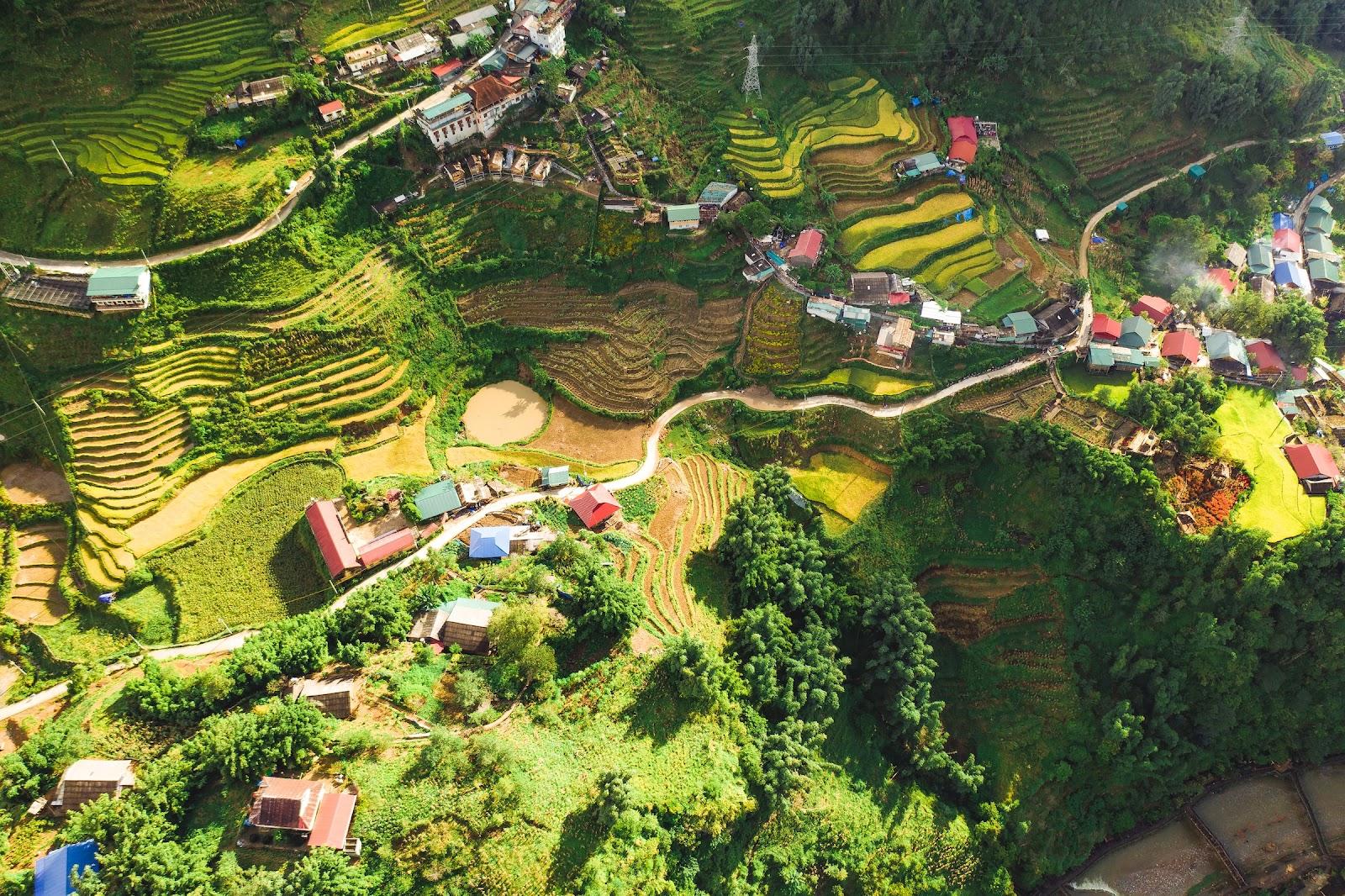 Planning a trip to Vietnam?
Discover the best way to get Vietnamese dong (VND) online!
Prepare for a fantastic Vietnamese adventure with Manor FX! We've got your Vietnamese dong (VND) covered so you can make the most of your journey. Our excellent exchange rates ensure you'll have more VND in your pocket for your trip.
You can receive your Vietnamese Dong banknotes securely at your home or office. On the other hand, if you're up for a little adventure. Why not visit our convenient Manor FX bureau near Heathrow for a swift pickup?
At Manor FX, we take pride in our lightning-fast delivery services and remarkably user-friendly online ordering system for your Vietnamese Dong travel money. Our goal is to ensure that your journey to Vietnam becomes an aweosme experience!
Vietnamese dong travel money:
Embark on your Vietnamese adventure well-prepared. Check out these valuable Vietnam travel tips about currency and payment methods, and be ready for your trip.
Can you buy Vietnamese dong in the UK?
Absolutely! You can buy Vietnamese dong (VND), the currency of Vietnam, in the UK. While you won't find it at traditional banks or the post office as it's pretty rare. You can easily purchase Vietnamese dong online, like on our website.
Where can I buy Vietnamese dong?
If you're short on time and require Vietnamese dong right away, you may encounter currency exchange kiosks at airports. Nevertheless, it's worth noting that convenience at airports often entails poor exchange rates. For the optimal value for your currency exchange, opting for online platforms like ManorFX.com proves to be the wiser choice.
Should you exchange money before travelling to Vietnam?
Absolutely, it's a smart decision to convert some currency before embarking on your Vietnam journey. Carrying Vietnamese dong in your wallet is highly beneficial for small expenditures and immediate needs upon arrival.
Local currency ensures seamless transactions, especially in local markets and eateries. Exchanging money in advance gives you better control over the Vietnamese dong exchange rate. Protecting you from less favourable rates typically found at airports. By following this approach, you can maximise the benefits of your currency exchange.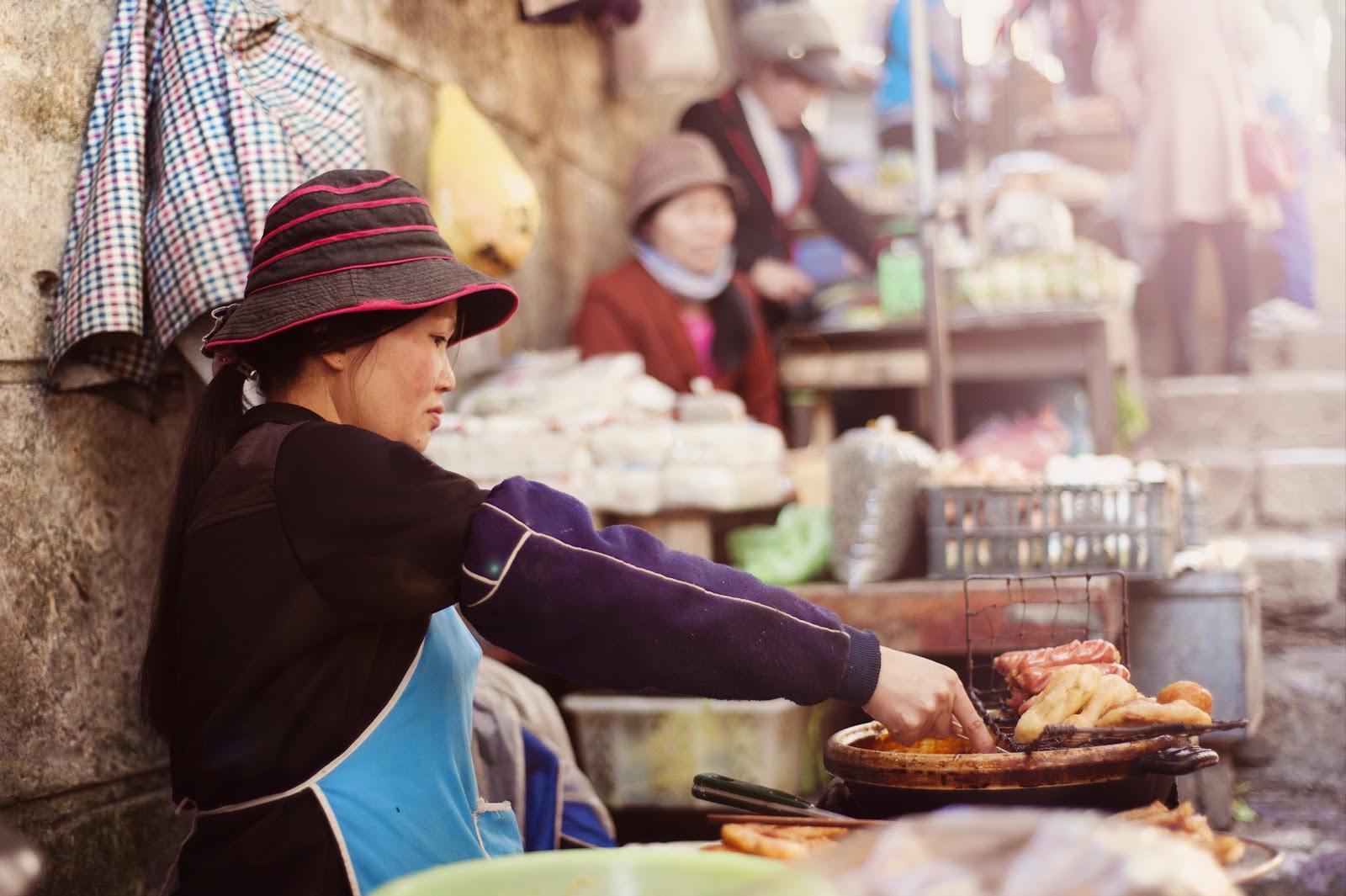 What's the best currency to take to Vietnam?
When planning your trip to Vietnam, consider bringing both US dollars (USD) and Vietnamese dong (VND). USD is widely accepted and convenient for many transactions. While Vietnamese dong comes in handy for small purchases, local markets, and places that prefer the local currency.
This balanced approach ensures you're well-prepared for various transactions and experiences during your Vietnamese adventure.
Can you use your debit card in Vietnam?
Certainly, but it's important to note that cash is prominent in Vietnam's economy. The country mainly functions as a cash-based society, making it crucial to grasp the intricacies of card payments. While certain international hotels and upscale stores in major cities may accommodate card payments. It's essential to note that many local vendors in Vietnam still heavily rely on cash transactions.
If you plan to pay by card in Vietnam, here are some key considerations:
Bank Card Fees: Using your debit card for payments may come with bank card and currency conversion fees. These fees can add up, so watch out!
If you withdraw cash from ATMs in Vietnam, be prepared for substantial costs, including currency conversion fees. Your bank's exchange rate for converting Vietnamese dong (VND) to British Pounds (GBP) may not be great. Banks often profit from these transactions.
Contact Your Bank Before traveling to Vietnam. Or any other destination in Southeast Asia. These steps can be incredibly useful in stopping your bank from blocking your card due to suspicious purchases.
While the use of debit cards in Vietnam is common. Being well-informed about potential fees and currency exchange rates is of paramount importance. Ensuring you have the appropriate currency for your adventure is a key consideration.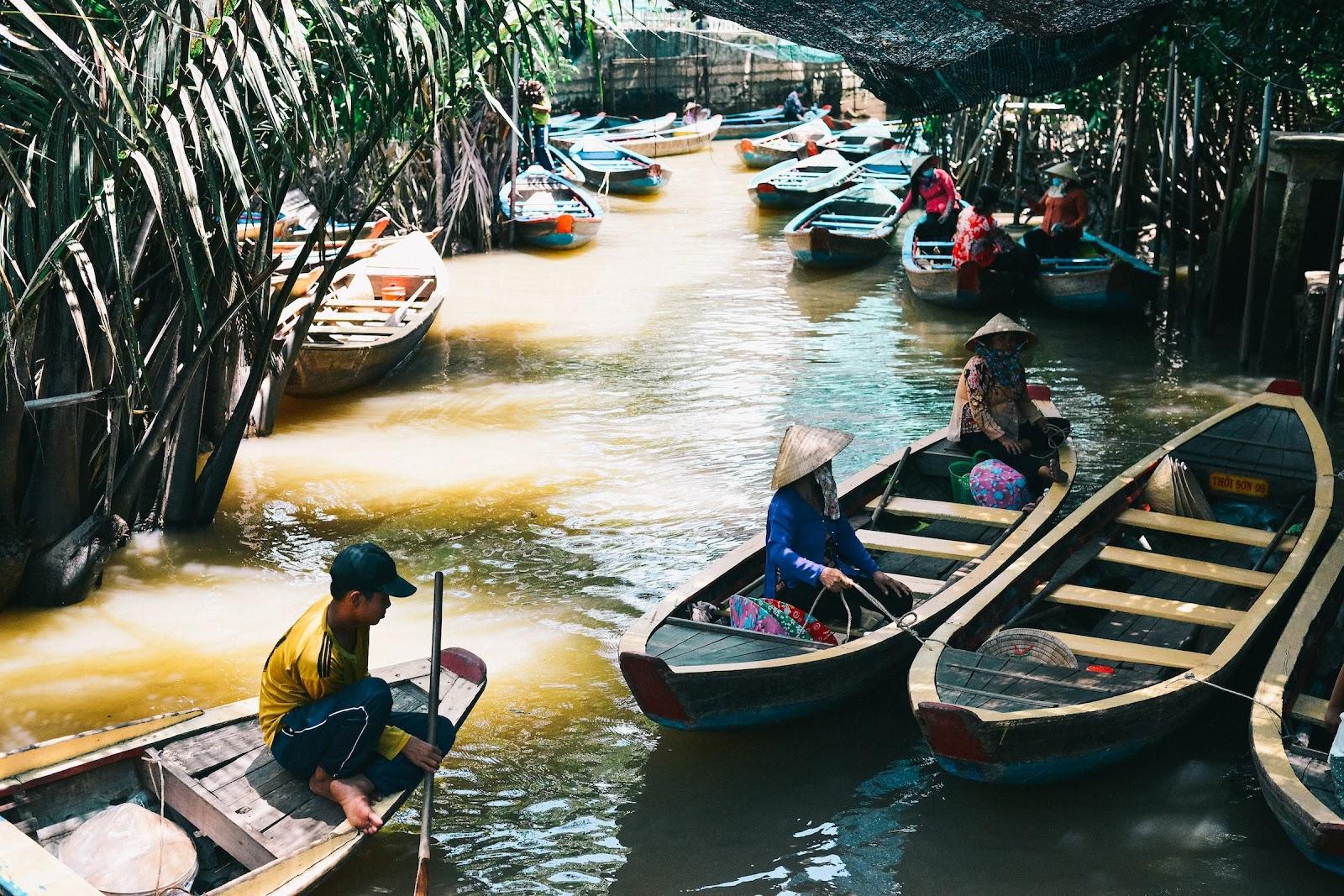 Do you need to bring cash to Vietnam?
Absolutely! Cash is the preferred payment method in Vietnam; most vendors exclusively accept cash. You'll find that vendors in Vietnam typically accept payments in three primary currencies: US Dollars, Vietnamese dong, and often Thai Baht.
How can you avoid ATM fees in Vietnam?
When it comes to managing your finances while travelling in Vietnam. A few smart strategies can make a big difference in saving you money and ensuring a smooth experience.
Use ATMs Sparingly: ATM transactions often come with fees, including currency conversion charges. To minimise these expenses, aim to withdraw cash from ATMs as infrequently as possible.
Opt for Larger Withdrawals: When you do use an ATM, consider withdrawing larger amounts of cash. This reduces the number of transactions and associated fees. However, always ensure that you keep your cash securely.
Contact Your Bank before your trip. Contact your bank to inquire about any partnerships with international banks in Vietnam. Some banks have ATMs that allow for fee-free withdrawals.
Notify Your Bank: It's wise to inform your bank about your travel plans. This proactive step helps prevent unexpected card blocks during international transactions, ensuring access to your funds.
By following these ideas, you can effectively reduce fees in Vietnam. While maintaining the safety and security of your finances. It's all about optimising your financial strategy to make the most of your travels.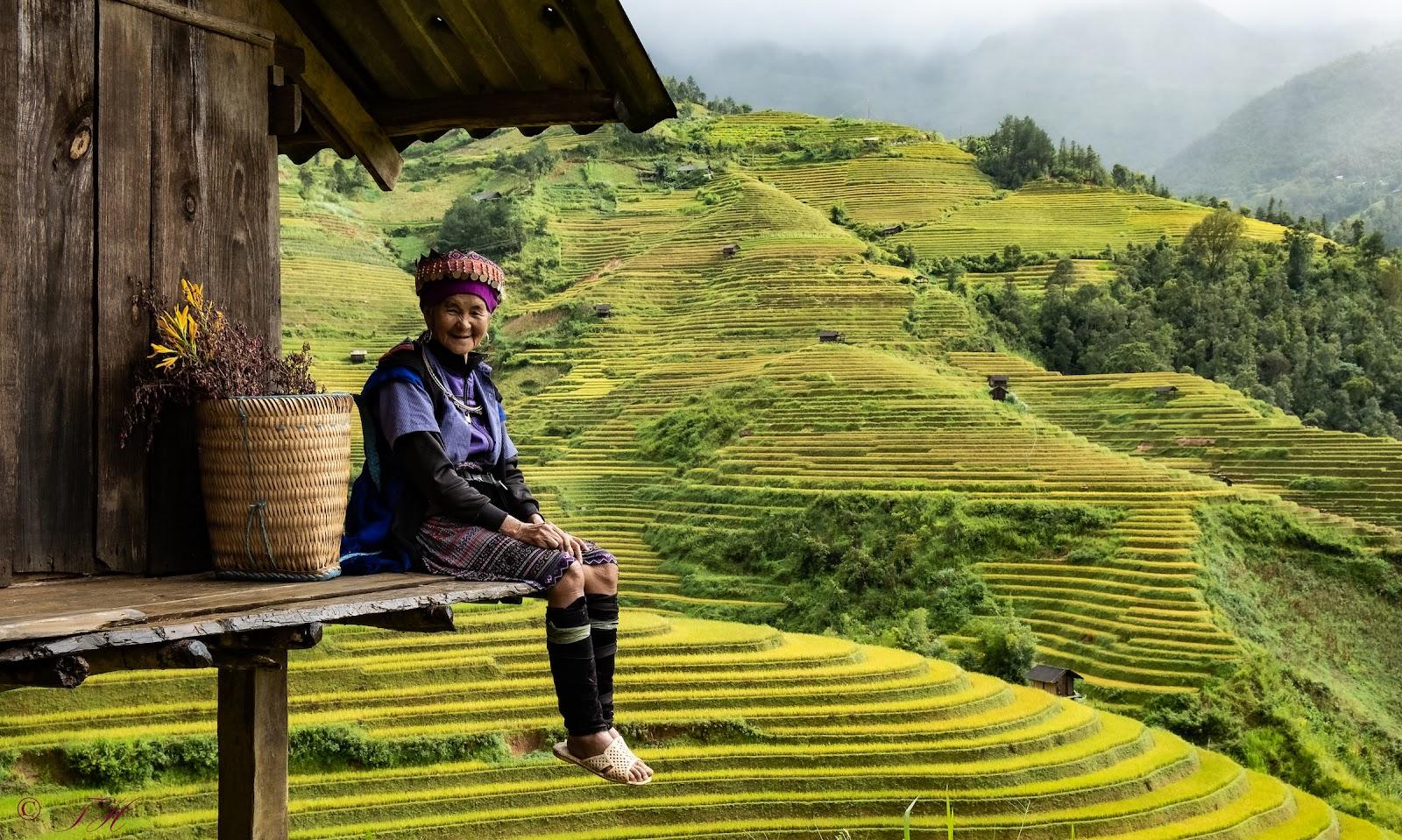 Is it cheap to visit Vietnam?
Vietnam is a budget-friendly destination. The cost of living here is approximately 30% lower than in the UK. To give you an idea of everyday expenses:
But how much does a trip to Vietnam cost? A cup of coffee at a local cafe typically costs around 8,000 VND. That's roughly £1.50 GBP (based on the current exchange rate).
Eating a three-course meal at a mid-range restaurant in major Vietnamese cities typically costs around 50,000 VND per person. That's about £10 GBP based on the current exchange rate. These budget-friendly prices make Vietnam an ideal destination for travellers seeking to maximise their experiences without straining their budget.
Vietnam offers a wide range of remarkable experiences. From exploring ancient temples to savouring delectable local cuisine, all while keeping your wallet happy. It's a destination where you can get the best bang for your buck. Making every moment of your journey enjoyable and cost-effective.
How does tipping work in Vietnam?
Tipping etiquette in Vietnam involves thoughtfully expressing your appreciation for good service, although it's not always needed. Here's a breakdown of what you should keep in mind:

Vietnam doesn't adhere to a strict tipping culture. But it's a common practice among tourists to leave a tip of around 10%. If you are satisfied with the service you have received.
Appreciating Low Wages: It's essential to understand that service staff in Vietnam often earn relatively low wages. This fact makes your tip all the more valuable and highly appreciated by those who serve you. Something as simple as rounding up your bill to the nearest 5,000 VND banknote. Leaving a $1 USD banknote can go a long way in conveying your gratitude.

While tipping is a welcome gesture, leaving coins as a tip in Vietnam is generally considered offensive. Therefore, it's advisable to avoid this practice and instead opt for paper currency.
Your friendly act of tipping can genuinely brighten someone's day and enhance your interactions during your stay in Vietnam. It's a small gesture that carries significant meaning and contributes to fostering positive relationships with the local community.
Is It rude not to tip in Vietnam?
It's not rude to skip tipping in Vietnam, but it is a nice gesture when the service is good.
How much money do you need for a week in Vietnam?
When planning a week-long holiday in Vietnam, your budget and travel preferences play a significant role. Here's a detailed breakdown to help you budget for your upcoming adventure:
Budget traveller: If you're a budget-conscious traveller looking to make the most of your funds. Allocating approximately £150 to £200 GBP for the week is a reasonable estimate. This budget range covers essential expenses.
Such as basic accommodation options, savouring the delicious local street food scene, and utilising cost-effective transportation options. It's a fantastic way to explore Vietnam without breaking the bank. Making it an ideal choice for frugal travellers who prioritise value.
Mid-range traveller: For those seeking a more comfortable and diverse travel experience. Setting aside approximately £300 to £500 GBP for the week is a good idea.
This budget range opens up a broader range of possibilities. Including mid-range accommodation, dining in various restaurants, and exploring different activities and attractions. It strikes a balance between cheapness and added comfort. Allowing you to enjoy Vietnam's rich culture and attractions without compromising on quality.
Premium traveller: If you want to indulge in luxury and create magic memories. Consider a budget of £700 GBP or more for the week.
This premium tier provides access to upscale accommodations that offer exceptional comfort and service. It also allows you to dine in renowned restaurants, savouring gourmet cuisine.
This budget enables you to take guided tours and exclusive adventures. That will leave you with great memories of your Vietnam journey. It's the perfect choice for travellers who want to experience the best Vietnam offers in style and luxury.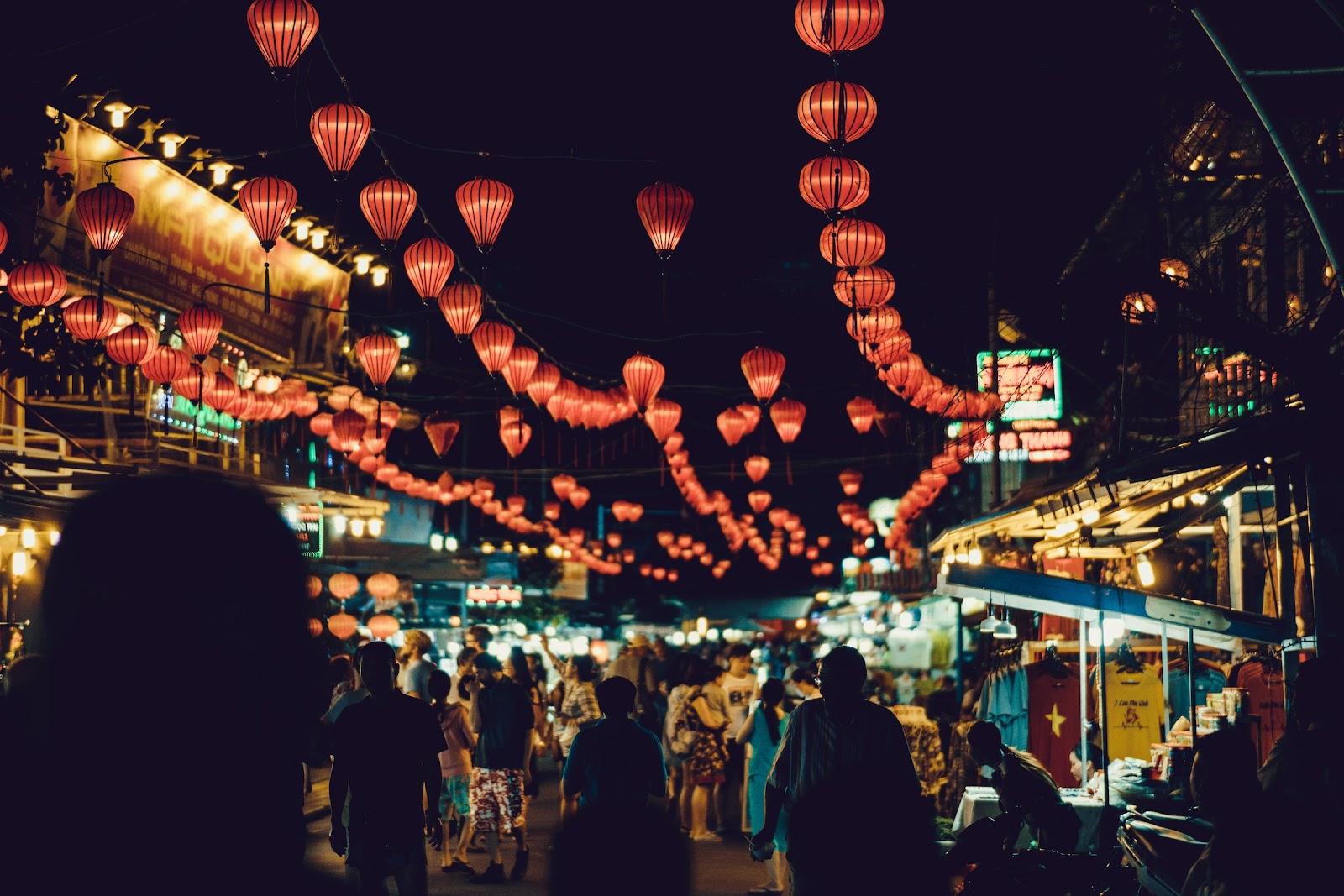 Vietnamese currency
Vietnamese dong banknotes:
Vietnamese currency, the Vietnamese dong (VND), comes in various denominations, including 1,000 VND, 2,000 VND, 5,000 VND, 10,000 VND, 20,000 VND, 50,000 VND, 100,000 VND, 200,000 VND, and 500,000 VND.
These banknotes feature unique designs that reflect Vietnam's rich culture and history. Many Vietnamese banknotes showcase iconic landmarks such as the stunning Halong Bay, traditional architecture, and historical figures.
All banknotes currently in circulation are dated 2003 and later. Please avoid accepting older banknotes dated before 2003.


Vietnamese dong coins:
Vietnamese dong coins exist in various denominations, starting from 200 VND and going up to 5,000 VND. However, people in Vietnam use coins sparingly for daily transactions. Instead, people typically rely on the convenience of low-value banknotes for everyday purchases.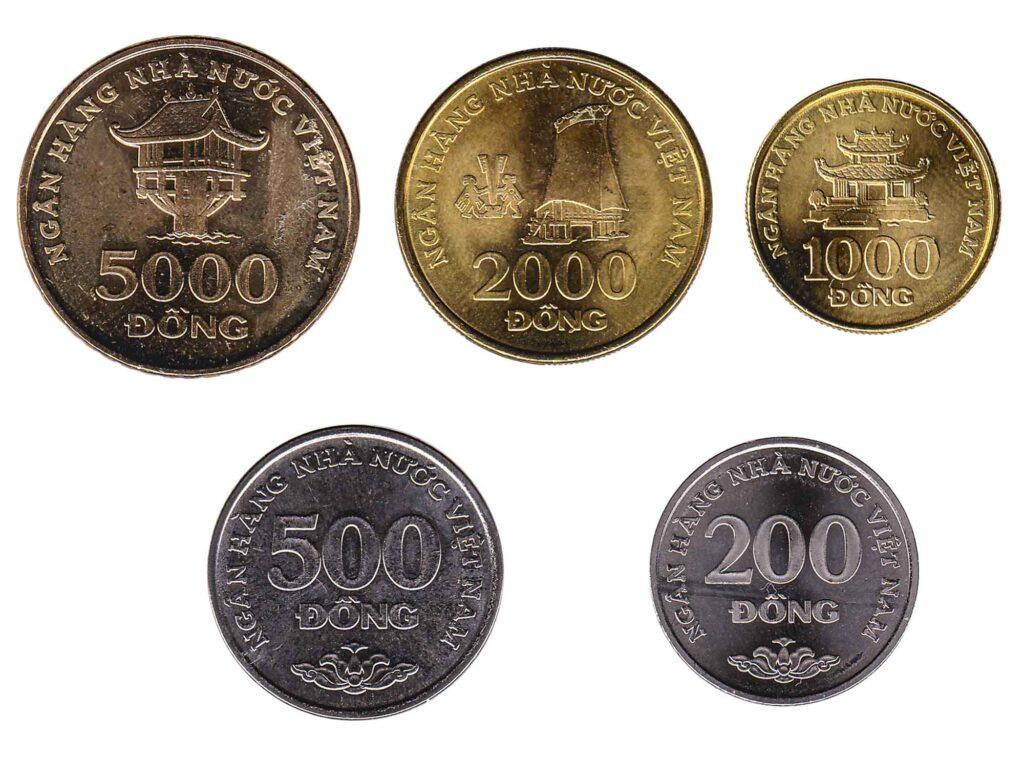 Vietnamese currency import and export regulations:
Travellers to and from Vietnam can import and export currency without strict limitations. Here are some essential regulations:

No Set Limits: No specific limits exist on how much currency you can bring into or take out of Vietnam. Allowing you to carry as much currency as you need for your trip.
When it comes to carrying substantial sums of money during your travels. You should be aware of essential regulations to ensure a smooth experience.
Here's the scoop:
If the total value of the currency you're carrying exceeds $10,000 USD. You must declare it to the relevant authorities, whether in Vietnamese dong or foreign currencies. This declaration is a standard procedure to promote transparency when transporting larger sums of money.
Ordering Vietnamese dong online:
Order Vietnamese dong with ease at Manor FX. Enjoy swift, secure delivery via Royal Mail or grab it near Heathrow. Buy online hassle-free now! Your smooth currency exchange for Vietnam awaits.
Selling back Vietnamese dong:
If you want to change your Vietnamese dong to gbp. Follow this link to exchange your Vietnamese dong currency to GBP. Click 'Sell Currency,' choose 'VND Vietnamese dong,' and enjoy competitive rates for your surplus Vietnamese dong.
Plan your Vietnamese adventure confidently, and let Manor FX handle your currency needs. Buy your Vietnamese dong today and embark on a journey filled with epic experiences in Vietnam!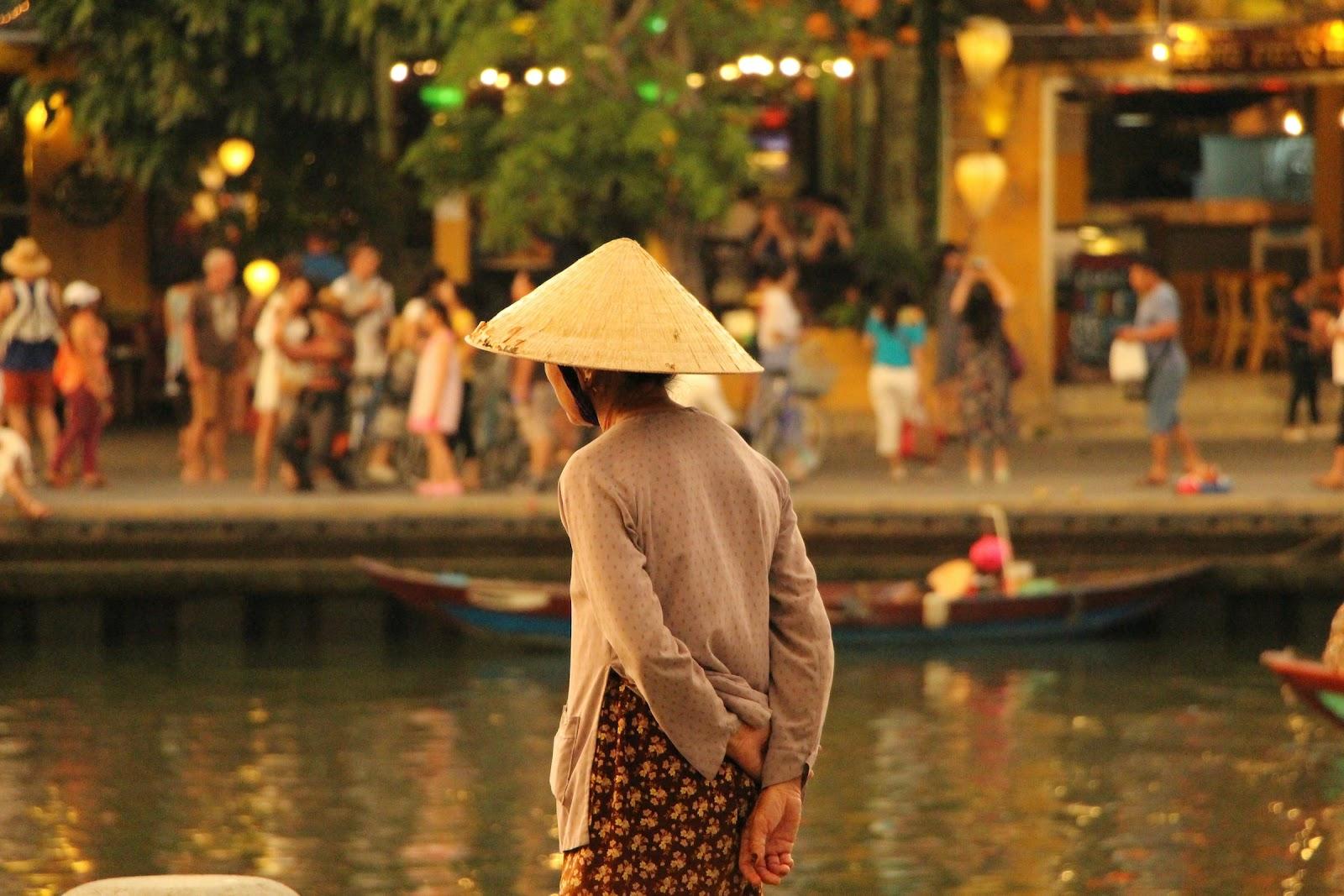 FAQs
For UK citizens planning a trip to Vietnam, understanding the Vietnam travel visa requirements is crucial. Here's a concise overview to help you navigate the process easily.
Do UK Citizens Need a Visa for Vietnam? If you're a UK citizen, you can visit Vietnam without a visa for up to 15 days. However, if your stay exceeds this limit, a valid visa is required. The most convenient option for UK travelers is the Vietnam online visa, also known as the eVisa. It's a multiple-entry permit that grants you stays of up to 90 days, allowing you to enter and exit Vietnam multiple times during this period.
Applying for a Vietnam eVisa Getting a Vietnam eVisa for UK passport holders is a breeze. The application process is fast, efficient, and typically takes just a few minutes. Once approved, your tourist visa for Vietnam will be sent to you via email.
Visa Requirements for British Children It's important to note that all UK citizens, including children, must have a valid visa to stay in Vietnam beyond the initial 15-day visa-free period. The good news is that the Vietnam eVisa is also available for children. The application process for minors is the same as for adults. However, children must have their own passport to apply. In cases where a child is too young to complete the application form, a parent or guardian can fill it out on their behalf.
Meeting Vietnam Visa Requirements To apply for an electronic visa for Vietnam, you only need to meet a few key requirements. These requirements are straightforward and include items such as a valid passport, an email address for visa delivery, and a recent passport-sized photo.
In summary, for hassle-free travel to Vietnam, UK citizens should consider the Vietnam eVisa. It offers extended stays, quick online application, and is suitable for both adults and children. Make sure to check your passport's validity and gather the necessary documents to meet the Vietnam visa requirements. Start your journey to Vietnam with ease by applying for an eVisa today.
Your health is a top priority when travelling to Vietnam. While entry into Vietnam doesn't require specific vaccinations, it's a good idea to ensure your well-being during your stay.
Recommended vaccinations:
Hepatitis A and B: These vaccines protect against hepatitis, a viral infection that you could contract through contaminated food or water.

Typhoid: Bacterial infection can transmit typhoid fever through contaminated food and water. A vaccine is recommended, especially if you plan to explore local cuisine.

Tetanus and Diphtheria: Ensure your routine vaccinations are up to date.

Rabies: If you'll be in close contact with animals or plan to explore remote areas, consider the rabies vaccine.

Japanese Encephalitis: If your travel involves rural areas and outdoor activities, consult your healthcare provider about this vaccine.

Malaria: Some regions in Vietnam are malaria-prone. Discuss medications with your doctor.
Consult a healthcare pro 6-8 weeks pre-trip for tailored health advice and vaccinations. Your well-being matters! They can provide personalised recommendations based on your travel plan and medical history.
Vietnam has diverse climates, so the best time to travel to Vietnam depends on your destination and preferences.
Northern Vietnam: The best time to explore Hanoi, Halong Bay, and Sapa is from October to April. This period offers cooler and drier weather, ideal for outdoor activities and sightseeing.
Central Vietnam: Cities like Hue, Hoi An, and Da Nang are best visited from February to August. These months provide pleasant temperatures and minimal rainfall.
Southern Vietnam: Ho Chi Minh City and the Mekong Delta are great to visit year-round. However, the dry season from November to April is particularly popular.
Avoid Typhoon Season: Vietnam experiences typhoons from July to November. 
While you can visit during this period, expect heavy rains and possible disruptions.
Vietnam is a land of incredible natural beauty, rich history, and vibrant culture. But where are the best places to visit in Vietnam? Whether you're seeking bustling cities or serene landscapes, the tourist attractions in Vietnam has it all. Let's explore some of this mesmerising country's best places to visit.
Hanoi: The capital city, Hanoi, blends ancient traditions and modern living. Stroll through the Old Quarter's narrow streets, visit the Hoan Kiem Lake, and explore the historic Ho Chi Minh Mausoleum. Remember to savour delicious street food in this culinary paradise.

Halong Bay: This UNESCO World Heritage Site is renowned for its emerald waters and thousands of limestone karsts. A cruise on Halong Bay is a must for breathtaking scenery and tranquillity.

Hoi An: Known for its charming ancient town, Hoi An is a picturesque riverside destination. Explore lantern-lit streets, shop for tailor-made clothing, and enjoy delectable local cuisine.

Hue: Discover the imperial history of Vietnam in Hue. The ancient citadel and the imperial tombs are must-visit attractions. Explore the Perfume River on a traditional dragon boat.

Ho Chi Minh City: Formerly Saigon, this bustling metropolis offers a vibrant atmosphere. Visit the War Remnants Museum, explore the Cu Chi Tunnels, and indulge in the city's energetic street life.

Phong Nha-Ke Bang National Park: This park is a hidden gem for adventure seekers. Explore the world's largest cave, Son Doong, and take in the stunning karst landscapes.

Mekong Delta: Experience the delta's unique culture and lush landscapes. Take a boat trip through floating markets, sample tropical fruits, and enjoy a slower pace of life.

Sapa: Nestled in the northern mountains, Sapa offers breathtaking rice terraces and opportunities for trekking. Immerse yourself in the diverse cultures of the ethnic minority groups.

Phu Quoc Island: Relax on the pristine beaches of Phu Quoc, known for its crystal-clear waters and lush jungles. It's a paradise for water sports and relaxation.

Nha Trang: This coastal city is perfect for beach enthusiasts. Explore the vibrant underwater world with snorkelling and diving or visit cultural attractions like Po Nagar Cham Towers.
Each destination offers a unique experience, making Vietnam a versatile and captivating destination.
Vietnam is generally a safe destination for tourists. But like any other place, it's essential to be aware of some safety considerations to ensure a trouble-free visit.
Personal Safety:
Petty theft can occur in crowded areas, so keep your belongings secure.

Be cautious when crossing city streets, as traffic can be chaotic. Use pedestrian crossings when available.
Health and Hygiene:
Tap water is not safe to drink. Stick to bottled water and avoid ice in drinks.

Street food is delicious, but choose vendors with good hygiene practices.

Mosquito-borne diseases like dengue are present, so use insect repellent.
Traffic and Transportation:
Be cautious if you rent a motorbike or bicycle, especially if you're unfamiliar with the local traffic rules.

Use reputable transportation services and check the condition of vehicles before embarking on long journeys.
Natural Disasters:
Vietnam is prone to typhoons and flooding, mainly from July to November. Monitor weather reports if you plan to travel during this period.
Local Laws and Customs:
Respect local customs and dress modestly when visiting temples and religious sites.

Drug offences are taken seriously and can result in severe penalties.
While these safety tips are essential, don't let them deter you from exploring Vietnam's beauty and culture. With proper precautions and a sense of adventure, your trip to Vietnam can be a memorable and enriching experience. 
As you plan your journey to Vietnam. It's essential to stay informed about Vietnam travel restrictions and requirements, especially in light of recent global events. Here's what you need to know:
COVID-19 Travel Restrictions:
Like many countries, Vietnam has implemented measures to mitigate the spread of COVID-19. Travel restrictions can change rapidly, so checking the latest updates from official sources before your trip is crucial.
Visa and Entry Requirements:
Ensure that you have the necessary visa or entry documents based on your nationality and purpose of travel.

Some nationalities may be eligible for visa exemptions or e-visas. While others require a traditional visa or visa on arrival (VoA).
Health and Safety Protocols:
Be prepared to follow health and safety protocols, including wearing masks, practising social distancing, and undergoing health screenings upon arrival.

Keep abreast of any quarantine requirements that may apply to incoming travellers.
Transportation:
Confirm the availability and schedules of transportation options, including flights and trains, as these may be subject to changes.
Local Guidelines:
Respect and adhere to local guidelines or regulations, as non-compliance could result in fines or other consequences.
Conclusion:
While travel restrictions and requirements may vary. Staying informed and flexible in your travel plans is key to a successful trip to Vietnam. Be sure to check the latest information from official sources and consult with relevant authorities as needed. 
---

Great competitive rates & friendly & helpful staff. Easy to order online & collect in person or delivery.

Great, fast and reliable service would certainly use again for my travel needs, as the rates are the best around!

This amazing company have gone above and beyond in getting a large amount of a rare currency across the pond to Ireland.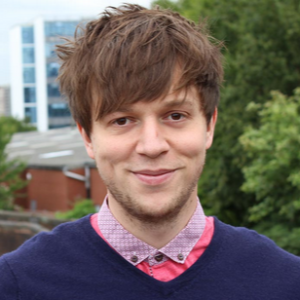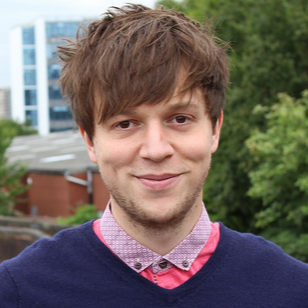 Great rates and really responsive, friendly customer support, will definitely be using Manor FX again.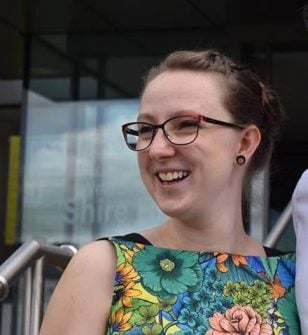 Manor FX gave me a better rate than my bank with great customer service, I highly recommend them.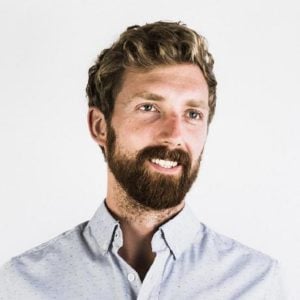 Family run business that's always super helpful. Manor FX's rates are always really good as well!
Get
Vietnamese Dong
Fast!
Free home delivery over £750

with Royal Mail Special Delivery 1pm

Better rates than the banks