Morocco's Currency – 5 fascinating facts
What is Morocco's currency?
The Moroccan currency is called the Moroccan Dirham. Its symbol is "د.م." and its currency code is MAD.
Pronounced as "deer-ham," it's the official currency of Morocco. The Dirham is split into smaller units called centimes. 1 Dirham equals 100 centimes.
When you see prices or talk about money in Morocco, you'll be using the local currency. You'll use it for buying everything from street food to souvenirs.
Get the best rates with Manor FX
When it comes to Moroccan currency, Manor FX offers the best online exchange rates in the UK.
Excited about your Moroccan adventure? Get ready for some tagine and baklava galore!
Before you jet off, you'll need travel money. Look no further than Manor FX to get your hands on Moroccan travel money. Our awesome exchange rates mean you'll have more cash to play with.
Easily order your dirhams online. Choose between convenient home delivery, office delivery, or in-store pickup.
With speedy delivery and a super-easy online ordering process, getting your Moroccan spending money sorted is a breeze. So tick off one more thing from your travel to-do list!
Buy your Moroccan dirhams now
A brief history of Moroccan currency
Once upon a time, Morocco's currency scene was a colourful mix. Different cultures' coins were commonplace in daily transactions.
But things started to change in 1882 when the Moroccan Franc made its debut. It was a handy currency, but times were shifting.
Fast forward to 1960 – a pivotal year. Morocco waved goodbye to the Franc and embraced its own currency, the Moroccan Dirham. This decision led to financial stability and a sense of national identity.
In the 1980s, new banknotes and coins got an upgrade, featuring new designs and enhanced security elements. These changes fit in with the evolving world of currency technology.
Today, the Dirham stands strong as a symbol of Morocco's past, present, and future.

Moroccan Banknotes
Moroccan banknotes come in various denominations – 20, 50, 100, 200, and 500 dirhams. And they're not just numbers; each has its own look! In 1995, Morocco phased out 10 dirham notes, replacing them with a coin.
What's the secret to telling Moroccan notes apart easily? Each banknote has its own distinct colour, so you can identify them in a flash.
Now, let's talk faces. The front of these notes stars King Mohammed VI. He's reigned as monarch since 1999. Flip it over, and you'll dive into a world of patterns, designs, and clever security features.
That's not all! The back of these notes is like a window into Morocco's soul. You'll find bits of culture, history, and landmarks that are unique to each note's value.
20 Dirhams: This note whisks you to the city of Marrakech, showcasing the iconic Koutoubia Mosque and its impressive minaret.
50 Dirhams: Get ready for a journey to the coastal city of Asilah. You'll find a scene of modern art and culture, capturing the essence of this vibrant place.
100 Dirhams: Here's a nod to the ancient city of Fez, famous for its medina and university. The back of this note is like a mini Fez guide, with a stunning view of the Bou Inania Madrasa.
200 Dirhams: If you're a nature lover, this one's for you. The back features the Timgad Dam, set against the breathtaking Atlas Mountains.
500 Dirhams: Get ready for a dose of history with a view of the Mausoleum of Mohammed V in Rabat. A tribute to Morocco's past monarchs.
Each time you use Moroccan banknotes, you're holding a tiny piece of Morocco's story right in your hand!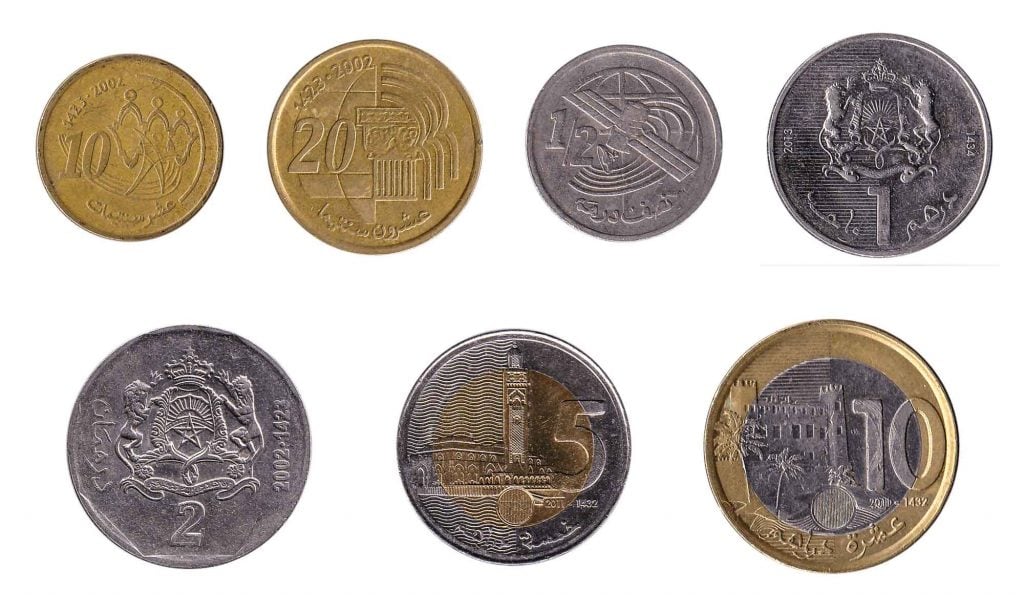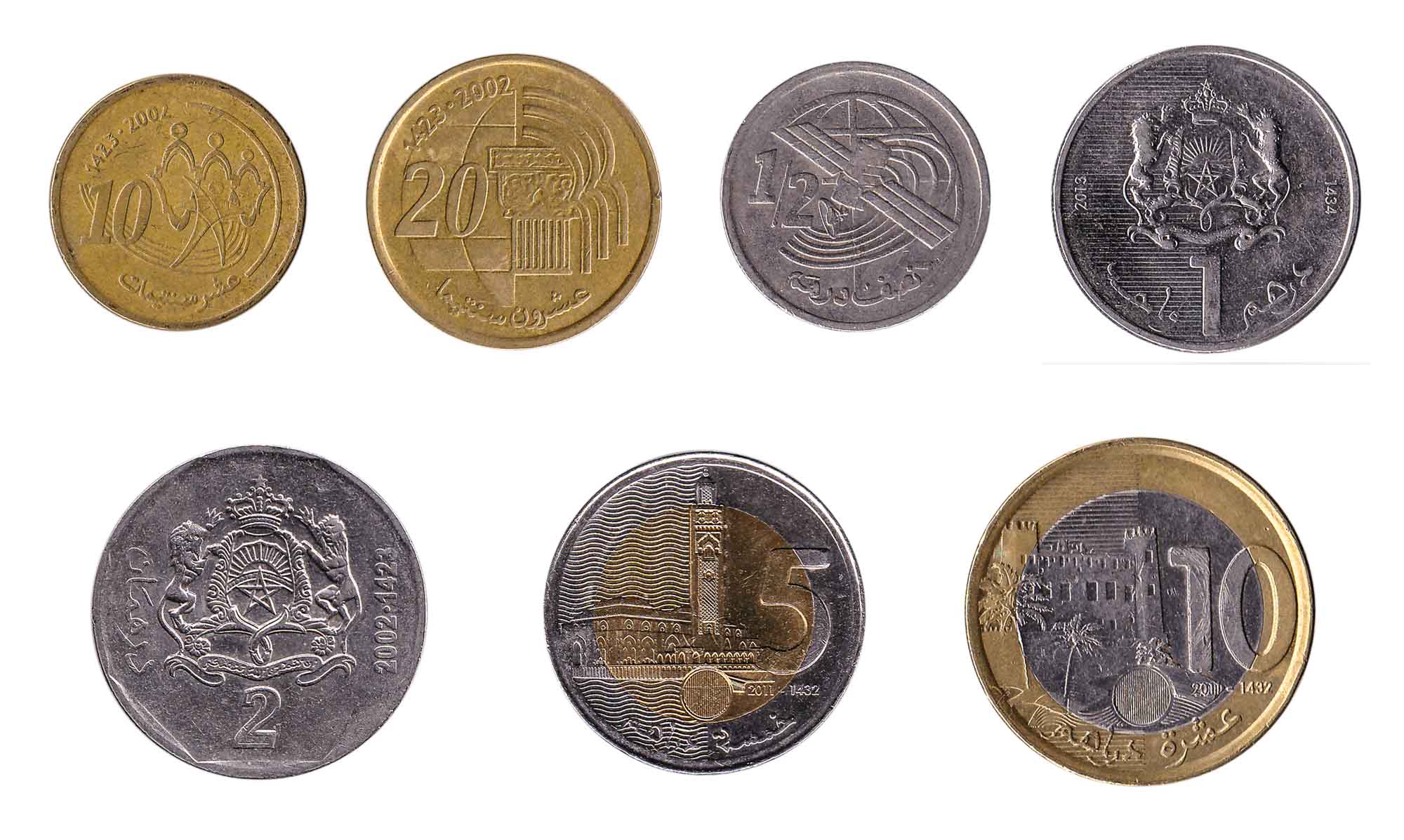 Moroccan coins
Moroccan coins are little treasures carrying a piece of the country's history and culture.
There is a variety in circulation today. 1 dirham, 2 dirhams, 5 dirhams, 10 dirhams, and 20 dirhams. Each one with its own special look and feel!
You'll spot the friendly face of King Mohammed VI saying hello on the front side.
The back of these coins offers deeper insight into Morocco's heart. You'll find all sorts of neat stuff like landmarks, ancient buildings, plants, animals, and things that make Morocco proud.
1 Dirham: On the flip side, you'll find the stunning Mausoleum of Mohammed V, a tribute to Morocco's monarchs.
2 Dirhams: Get ready for a journey to Casablanca's iconic Hassan II Mosque – a masterpiece of architecture.
5 Dirhams: This coin celebrates Morocco's rich heritage. There's a portrait of King Mohammed VI on the front. You'll see a charming scene of a Moroccan gate on the back.
10 Dirhams: Say hello to the Moroccan lion on this one! It's a symbol of strength and pride, reflecting the nation's spirit.
20 Dirhams: This coin gives a nod to the agricultural side of Morocco. It features an olive tree, a symbol of peace and prosperity.
If you've got some Moroccan coins to spare, our friends over at Leftover Currency can give you a hand. They're experts and able to turn your Moroccan currency to British pounds.
Where else in the world uses Moroccan currency?
The Dirham isn't used as a common currency in other countries. However, some regions near Morocco may accept it informally. This is down to geographical proximity and cross-border trade.
One such location is Western Sahara. So if that's up next on your travel list, make sure to exchange some dirhams before you go!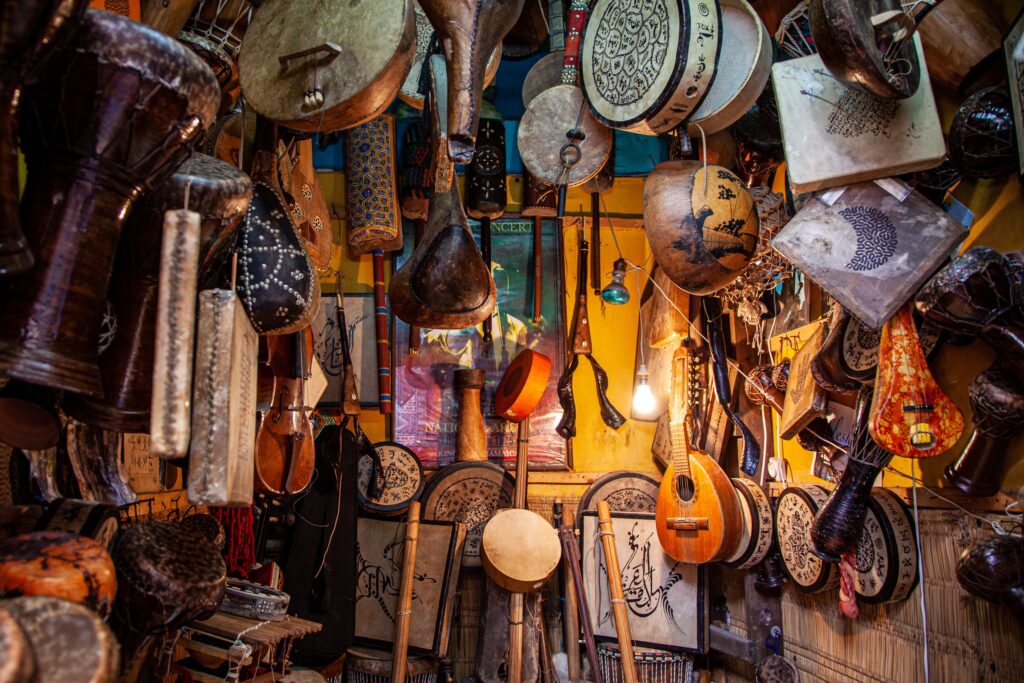 Currency in Morocco – 5 fascinating facts
Market Speak: In the 18th century, Morocco's currency drew inspiration from Spanish coins. This led to adoption of alternate names for the dirham, like "duro" and "real". You can still hear these terms today, especially in the countryside markets.
Lingering Names: The dirham divides into 100 santimat. But, listen closely, and you might hear locals call 5 santimat a "rial" and 1 santim a "franc." This dates back to the 1960s when one dirham was 100 francs. Only in 1974 did the santim replace the franc as the smaller unit of Moroccan currency.
Dirham's First Steps: The modern dirham was introduced in 1960. Back then 100 dirham note was printed over 10,000 franc notes. The new 50 note was also printed over the old 5,000 franc banknotes.

Printing over the old franc notes was a way of economising. Using existing printing infrastructure saved time and costs during the currency transition.

So Morocco was able to introduce its new currency more efficiently and smoothly. Without having to build an entirely new printing process from scratch.
Plural Peculiarities: Plurals work differently in Arabic compared to English. While we add an "s" in English, Arabic has something called a "broken plural." So, dirham becomes darahim. But don't worry, using "dirham" works just fine, especially in places like Casablanca and Marrakesh.
Royal Presence: Spot a man on dirham banknotes? That's the King of Morocco. King Hassan II appeared on notes until 1999, when Mohammed VI took over. You'll find him on notes from 2002 onwards.
FAQs
Because the currency in Morocco isn't as well known as the euro or the US dollar, many people don't know what to look for.
People often search for "Morocco currency", "currency in Morocco" and "currency of Morocco" when they need to buy currency for their travels there.
Commonly searched terms also include "what is the currency in Morocco", "what is currency of Morocco" and "what currency for morocco".
Actually what people are looking for is the Moroccan dirham, now you know!
Yes. If you're looking to convert your pounds to Moroccan dirhams, we've got you covered! 
You can easily order Moroccan travel money online and guess what? We make sure they reach you safe and sound through Royal Mail Special Delivery Guaranteed®. No stress, just speedy and secure delivery to your doorstep or office.
If you're near Heathrow, you're in luck! You can also swing by our travel money shop to pick up your Moroccan currency in person. It's all about making things convenient for you.
Yes. Got some Moroccan currency left over from your adventure? No worries, we've got a simple solution for you. Just click on the link to convert your Morocco currency to pounds.
Here's the deal: Once you're on the page, simply hit the 'sell currency' button. Then, give a little tap on 'MAD Moroccan Dirham'.ᅠ
We're all about offering great rates for your extra dirhams. Your leftover currency is valuable to us, and we're here to make sure you get the most out of it.
Let's turn your Morocco currency to gbp with a simple click. Your hassle-free currency exchange journey starts right here!