Cambodia currency – Your essential guide
What is the currency of Cambodia?
The currency of Cambodia is the Cambodian riel, and the currency code is KHR.
The symbol of Cambodia's currency looks like this "៛" and is pronounced as "ree-yell." The Riel is divided into smaller units called "sen." One Cambodian riel is equivalent to 100 sen.
You'll use the riel to explore bustling markets or enjoy the stunning temples in Cambodia. This local currency truly enhances your travel experience.
Get the best rates with Manor FX
When it comes to Cambodian currency, Manor FX offers the best online exchange rates in the UK.
If your Cambodian adventure is just around the corner, remember to get some riel sorted before you go. We've got your back! With fantastic exchange rates and a hassle-free online ordering process, you'll have more cash to splurge on your travels!
Ordering your riels online is a breeze. You can choose between home delivery, office delivery, or in-store pickup.
With swift delivery and a straightforward online ordering process, you'll have your Cambodian spending money ready in no time. Consider that one more item checked off your travel to-do list!
Buy your Cambodian riels now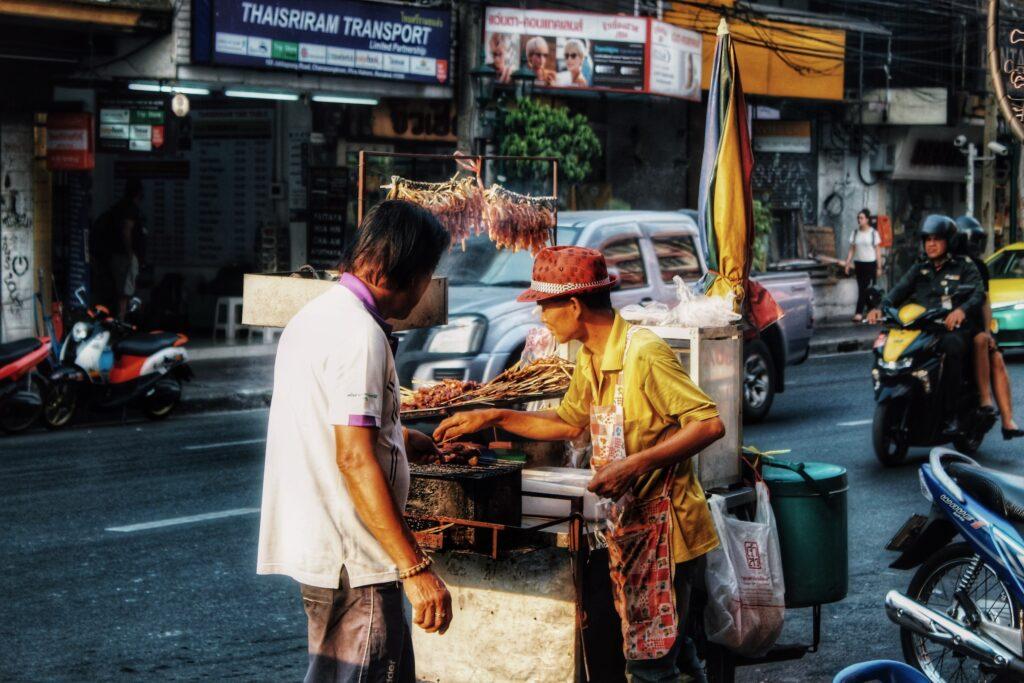 A short history of Cambodian currency
Cambodia's currency story stretches a long way into the past. The Cambodian riel has seen its share of changes over the years, reflecting its rich history.
In the mid-19th century, Cambodia came under French colonial influence, and the French Indochinese Piastre was introduced as the official currency. However, Cambodia still had its traditional forms of currency in circulation alongside the Piastre.
After gaining independence in 1953, Cambodia began issuing its own currency, the riel, to replace the Piastre. The riel featured depictions of notable Cambodian landmarks and cultural symbols.
During the reign of Khmer Rouge (1975-1979), the use of money was largely abolished, and the economy faced a significant setback.
Efforts were made to reintroduce Cambodia's currency, but the Thai baht and the US dollar were commonly used due to a lack of trust in the riel.
In the 1990s, the riel regained significance and became the primary currency for daily transactions.
Today, the riel remains the official currency of Cambodia. The country's commitment to economic development has increased confidence in the riel among locals and tourists.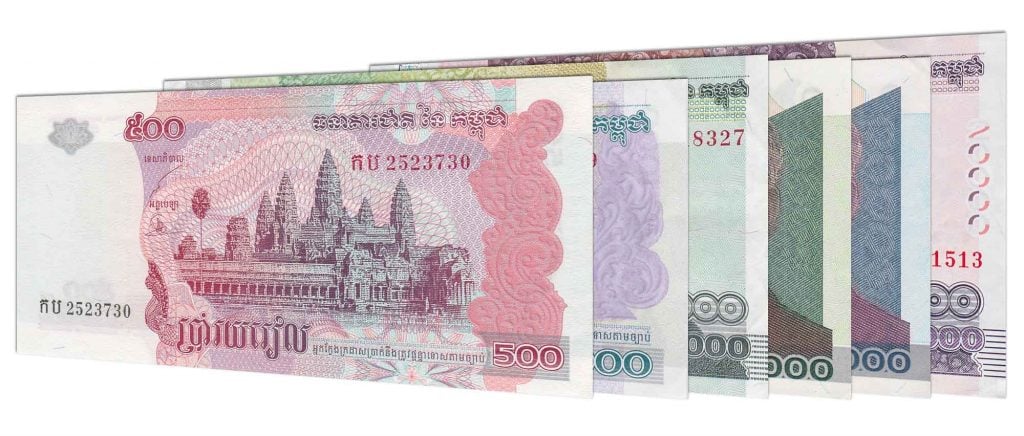 Cambodian banknotes
In the Kingdom of Cambodia, you'll find a variety of banknote denominations that cater to different needs: 50 KHR, 100 KHR, 200 KHR, 500 KHR, 1,000 KHR, 2,000 KHR, 5,000 KHR, 10,000 KHR, 20,000 KHR, and 50,000 KHR.
All the banknotes currently in use have dates from 2001 onwards. So, when handling Cambodian notes, make sure you're using the more recent ones – those dated before 2001 are not accepted.
Cambodia's banknotes are mini canvases that blend history, culture, and art beautifully.
From traditional Apsara dancers to royal portraits, these banknotes feature iconic symbols that tell Cambodia's story.
Flip a banknote, and you might uncover hidden gems – ancient temples or even creatures of legend such as the Naga, a mythical snake.
50 riel: Featuring a traditional ox cart, this note highlights the country's strong ties to its land and people.
100 riel: Get a glimpse of Cambodia's spiritual artefacts, where you'll find the Khmer statue alongside the Silver Pagoda.
200 riel: Some of Cambodia's remarkable treasures, including the enchanting Moon Pavilion and the National Museum of Cambodia, are depicted in this banknote.
1,000 riel: This note represents the country's deep respect for its royal heritage. A portrait of King Norodom Sihamoni, the current King of Cambodia, is on the front of this bill.
2,000 riel: On the reverse side of this note, you'll discover an ancient stone artefact – the majestic Prasat Tao, also known as the King Lion Temple.
5,000 riel: On this banknote, you'll see the head of a Naga, a mystical snake, right next to the Kampong Kdei bridge in Siem Reap Province.
10,000 riel: If you're all about adventure, this note is for you! The banknote features ancient ruins of the Neak Pean Buddhist temple in Angkor.
20,000 riel: On the flip side of this banknote, you'll find a stunning portrayal of the Banteay Srei Temple nestled in the Siem Reap province.
50,000 riel: For animal lovers, this note features a sculpture of an elephant found at the Koh Ker temple.
Whether you're a currency enthusiast or keen to explore Cambodia's vibrant culture, these banknotes are your colourful guide to navigating the Riel.
Cambodian coins
Cambodian coins span from 50 to 500 riels, but coins aren't commonly used. Instead, the low-value banknotes ranging from 50 to 500 riels take the spotlight.
Cambodia's coins are tiny pieces of history you can hold in your hand. They come in various denominations, each with its unique design and significance. Here's a glimpse at all the denominations you'll come across.
1 riel: The smallest denomination. This coin gives you a taste of Cambodia's heritage, showcasing the iconic Independence Monument in Phnom Penh.
100 riel: Highlighting the beauty of Cambodia's landscapes, this coin features the temple complex Angkor Wat.
200 riel: On the flip side of this coin, you'll spot two ceremonial bowls, and above them, there's the sacred Om symbol in Khmer script, radiating rays of light.
500 riel: On the back of this bimetallic coin, you'll see something special – the splendid Royal Arms of Cambodia!
Fascinating facts about currency in Cambodia
Dollar-friendly Cambodia: Cambodia is one of those places where the US Dollar is not just a foreign currency; it's like a second currency that locals and visitors love.
Why dollars? After some rather rocky economic times, the USD became a symbol of stability for Cambodians. So, it's widely accepted and used alongside Cambodia's currency, the riel.
Whether you're shopping in the local markets, enjoying a delicious meal, or exploring the temples, don't be surprised to spot the familiar green notes.
Coins aren't a big deal: When it comes to coins, Cambodians much prefer using banknotes for their everyday transactions. But why, you might wonder?
Historical reasons: It goes back to Cambodia's history, particularly during the Khmer Rouge regime in the 1970s. Coins were largely phased out during this time.
Cultural preference: It's also a bit of a cultural thing. Cambodians tend to find banknotes more respectful and valuable.
Exchange rate: Another reason is that the exchange rate between the Cambodian riel and the US Dollar often results in coins having very low value.
The tale of two riels: In 1955, Cambodia introduced its first national currency. However, during the Khmer Rouge regime (1975-1979), the use of currency was abolished.
After the fall of the Khmer Rouge, Cambodia reintroduced the second riel in 1980. This time, the currency coexisted with the US dollar. The two-currency system was created to restore confidence in Cambodia's currency.
Unknown origins of the"riel": The story behind Cambodia's currency name is a bit of a mystery. Some say it took inspiration from the Mekong River fish known as "Trey Riel." Imagine a currency named after a fish – pretty unique, right?
However, it more likely originated from the Mexican 'real' coin. Chinese, Malay and Indian traders used this coin as a medium of exchange in their transactions within Cambodia.
The Mexican real coin's circulation in Cambodia highlights the country's position as a popular trading hub. Over time, as Cambodia developed its currency system and gained independence, it introduced its own national currency, the Cambodian riel (KHR), in 1953.
Today, the Mexican real coin serves as a historical relic, reminding us of Cambodia's rich trading history and journey towards developing its national currency.
FAQs
Cambodia's currency is less famous than the US dollar or the euro, so knowing what to search for when planning your trip abroad can be tricky.
Sometimes folks search for terms like "currency cambodia" or "what currency cambodia" when they're really after information about the Cambodian riel.
Yes. If you are looking to convert your pounds to Cambodian riels, you're in the right place!
Converting your currency is a breeze. You can order your Cambodian riels online today! We get them delivered fast and securely to your home or office with Royal Mail Special Delivery Guaranteed®.
If you're near Heathrow, feel free to drop by our travel money shop to pick them up in person. We're here to make your currency exchange experience smooth and hassle-free!
Yes. If you've got some currency leftover from your Cambodian voyage, we have a super easy fix! It's as easy as clicking the link to convert your Cambodian currency to pounds.
Here's the deal: Once you're on the page, click the 'sell currency' button. Then, give a little tap on 'KHR Cambodian riel'. We're all about offering fantastic rates for your extra riels!
Let's make exchanging your Cambodia currency to GBP a breeze with just a simple click. Your hassle-free currency exchange journey begins here!